I like the MikeGold who is critical of management.
I don't - because that means that there is a darned good reason for him to be critical, as he is always very positive.
If Hochschild wasn't going to consummate the marriage, I don't think they would have put a December 15th deadline on signing the JV knowing that they can ask for another extension. jmo
Western Troy Capital cancel LOI with MASGLAS
2018-12-04 13:43 ET - News Release
Mr. Rex Loesby reports
WESTERN TROY AND MASGLAS AGREE TO TERMINATE LETTER OF INTENT AND ASSOCIATED PROPOSED RTO
MASGLAS Peru SAC and Western Troy Capital Resources Inc. have agreed to terminate the letter of intent they executed on June 28, 2018.
The letter of intent called for a reverse takeover (RTO) process and share exchange agreement to be completed by Dec. 3, 2018. Through the due diligence process, it was discovered that the property payments and potential Cia. San Nicolas liabilities grew to a much larger amount than was originally envisioned by the letter of intent. By exchange rules, the total amount of the property payments and liabilities would need to be covered by cash in the Western Troy treasury upon closing of the RTO. While Western Troy estimated that the economics of the San Nicolas mine project would be compelling for investors, a commitment for the funds required to close the RTO and resolution of the property ownership issues could not be assured within the necessary time frames. Therefore, by mutual agreement, both Western Troy and MASGLAS have agreed to terminate the June 28, 2018, letter of intent, but keep the option open to reinitiate the RTO process should MASGLAS be able to resolve the outstanding issues. The Western Troy stock trading halt will be lifted shortly.
Western Troy's chief executive officer, Rex Loesby, commented: "We are disappointed we could not find a way to continue with the MASGLAS venture as we believe the economics of the San Nicolas mine project are very favourable. We are keeping the door open should MASGLAS be able to better define a source of funding for the RTO and the potential liabilities the venture may be required to assume. In the meantime, we will be investigating other opportunities to maximize shareholder value. With the uncertainty of the CRA [Canada Revenue Agency] dispute behind us announced last week, we are in a much better position to negotiate favourable terms on any opportunity we investigate."
The cash in the bank must have been worth more than the discounted present value of what Masglas thought was a good investment amount?
Hmmmmm …
Is this related to the Auryn share exchange?
I almost puked in my mouth reading Mike's assumption that MP readers would help with promotion. If there is anyone left on this board that would recommend this dog to anyone that they know they should have their heads examined. I brought half of my immediate family into this dog and have never lived it down and I know I'm not alone.
It's a "dog" because it isn't being promoted. Besides, I was talking about promoting Auryn; not Medinah. Medinah will only be around for little while longer. I'm sure everyone here including myself will be glad to see it go. Despite the lack of promotion, the Alto is still likely the best greenfield gold/copper property remaining in S. America. It disappointing that Auryn has failed to properly convey this message.
Retail hype and pump and dump that's been done for Medinah over the years does not bring real investment into companies that are actually trying to build something of value.
The sector is what it is. Our fortunes will rise or stay where they are based on what is actually possible with the property and what kind of support the sector has.
WHEN? Since we had these guys in our lives we have seen a stock pulmit when will we see some uptrend?
I mean you say that but…but actually it did bring real investment into Medinah generating a crazy high market cap compared to other exploration companies and brought the attention of the property to that of a lot of major miners. Juan's incompetence and greed and Les's antics undermined what was accomplished.
From my view of the ledger, that is factually incorrect, unless your considering folks like Ulander major miners.
No real investment went into Medinah unless you consider LP's company, MMC, as Medinah (which it isn't.) The investment that came and went in and out of the stock (MDMN) was paper. Nothing of value was built. If that's what you want, then you may want to look elsewhere. I am fairly confident Maurizio isn't going to play that game. He is trying to build something of value. Not easy to do in the sector at this point.
I am talking about shareholders right here on MP. Millions of dollars were raised that went into either buying shares on the open market or via private placements. Even Les brought value to the property(via Gordon House) through some successful exploration programs although so many years have passed it is easy to forget. I can assure you that Hothschild wouldn't be interested in the LDM today if it wasn't for Gordon House's exploration programs there and some more recent efforts with the mine shaft project etc. (To the best of my knowledge, Auryn has done little to date to push exploration efforts along at the LDM compared to what was previously done.)
I have issues with no follow up to:
We will not make our goal of producing 5,000 ounces in 2016, however, we do expect to be cash flow positive by year-end. We will provide a more detailed update with the results from our test shipments once they are available and will inform our shareholders when we achieve consistent production.
Last month after ENAMI visited our operations and gave us a preliminary approval to begin shipping ore, we announced that we expected to ship three trucks of vein material for test production runs by November 30, 2016. When it came time to ship the ore to ENAMI we were informed of minor permitting issues which prevented us from conducting the test production runs. These issues and several mechanical issues in the ventilation system have slowed progress somewhat during the month of December. Nevertheless, AURYN remains undeterred.
This month we addressed the permitting issues, refiled the permits, and re-conducted the onsite visit with ENAMI. Once again, we received the preliminary approval. With permitting issue now solved, on December 21, 2016, we received the final approval from ENAMI to begin shipping ore. In addition, we have purchased a new ventilator with a greater capacity and are installing a new generator to run it.
Mike, you are right that it appears NUOCO/MMC performed the last of the "early work" on the LDM . AURYN focused more on the ADL proper and the Caren veins with significant work in Adits 3 & 2 as previously reported already.
Nuoco/LDM BOD released the following information June of 2014:
Samples from the shaft wall rock have returned assays of 0.5 to 0.8 grams
Assays in the tunnel section of the fault structure returned
16.8 g/t Au
21.5 g/t Au
24.5 g/t Au
10.4 g/t Au
33.3 g/t Au.
Work done to date has shown consistent findings of increasing mineralization in the gold and separately in the copper zones.

On October 14th, 2014, AURYN Mining Chile SpA, submitted a Letter of Intent to SCM Nuoco, and SCM Nuoco accepted it on October 15th 2014, in which AURYN Mining Chile SpA is granted until January 15th 2015 the opportunity to evaluate the Las Dos Marias Project (LDM), including the so called Mambo mining claims.
Results of any subsequent work from the LDM grew silent from the time of the 1st option offer. ADL exploration was generally made public up until January 2016 and later at the Informational meeting during Oct. 2016. The rest is all history until we hear different. I'm sure Hochschild is reverifying the NUOCO/LDM data, reviewing Dr. Jannas & Dr. Sillitoe's assesment/reccomendations, and taking samples of their own. During the time Jose Roberto de Romana Letts was Director the slide deck from 2015 contained the following information: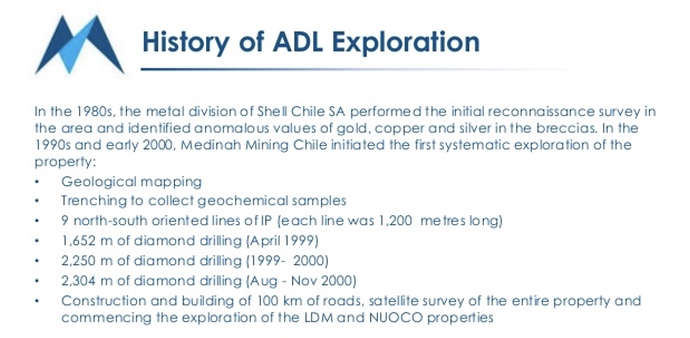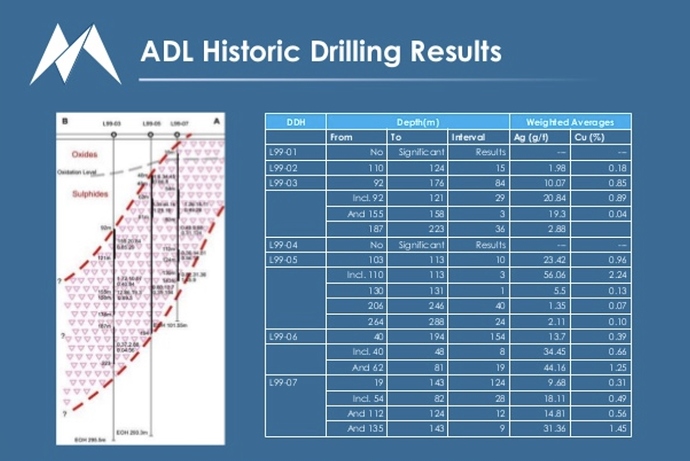 I NEVER thought we would EVER see .001's…This is PAINFUL…
Me niether! Very disappointing!
Once we would have called this a buying opportunity.
Then later it would be referred to as circling the drain.
Now it's looking more like riding the rapids through the P-Trap.
Still no word on final JV signing and share restriction being lifted and we are trading at .0016
If December comes and goes without any news we will be in a world of hurt. We already are…