We were discussing de Grey mining. I had planned to trade around a core, but that didn't work out. The much smaller position I have now didn't retrace (up 820%)! I sold on the way up figuring to buy back, right? Wrong!!! At least what's left is all free shares. Anyone following or still have a position in Artemis Resources? Palladium at Munni Munni seems to be driving the increased PPS. Quite a surprise, really. Just 3 weeks ago I posted:
Well, my big stinker stock (not the REALLY BIG one) turned green! What's the big game changer for ARTTF?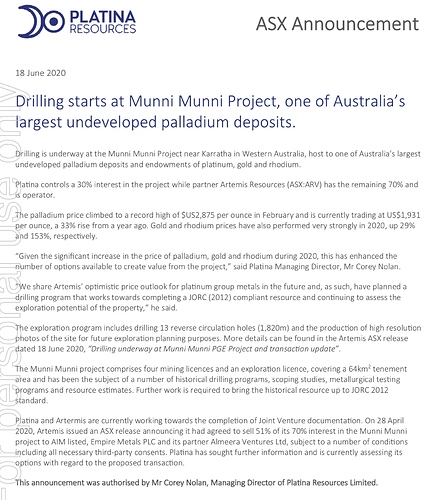 Things that make you go Hmmm!
Fosterville South Exploration?
Yes, I still have it. I stopped following it more than a year ago out of disgust. I had completely written it off and basically forgot about it till you just mentioned it today. If I actually make some money on that one, it will show that anything is possible. Perhaps Medinah will have the same sort of turn around?
More going on here than meets the eye …
Artemis Resources (ASX:ARV) begins drilling at Munni Munni Project

By Ashleigh Melanko June 18, 2020

Artemis Resources (ARV) has begun a 13 hole reverse circulation (RC) drilling program at the Munni Munni Platinum Group Element Project in WA
The aim of this program is to test depth extensions, extend mineralisation, and test historical assay grades
It is hoped that data generated will contribute to a future JORC 2012 mineral resource estimate
Artemis has also provided an update on the progress of the sale of its holding in the Munni Munni Project
This transaction will see the company sell 51 per cent of its 70 per cent holding in the project to Empire Metals and its partner Almeera Ventures
Once the transaction is completed, Artemis will receive a £25,000 (roughly A$50,000) option fee and 60 million Empire shares that are valued at at least $1.5 million
Artemis is up 5.13 per cent on the market and shares are trading for 4.1 cents each

Artemis Resources (ARV) has begun a 13 hole reverse circulation (RC) drilling program at the Munni Munni Platinum Group Element (PGE) Project.

The Munni Munni Project is located near Karratha in Western Australia and is one of Australia's most significant undeveloped palladium deposits.

Platina Resources (PGM) holds a 30 per cent interest, while Artemis holds the remaining 70 per cent and is the operator.

This program will focus around the resource area to test the depth extensions, while DHEM (downhole electromagnetic) surveys will be undertaken to identify the electromagnetic signature of the ore zone.

Drilling is also aiming to extend mineralisation and test historical assay grades.

It is hoped that the data generated will contribute to a future JORC 2012 mineral resource estimate.

"It is terrific to be back exploring at the Munni Munni PGE Project. Drilling using an RC rig is designed to grow the footprint of the known reef-style PGE mineralisation and test for, what our technical team believes, maybe a second reef below and sub-parallel to the primary reef," Executive Director Alastair Clayton said.

"As soon as this exploration program is complete, Artemis field crews will then move immediately to join an aircore rig at Carlow West to kick off a 5000-metre program," he added.

Artemis has also announced that its transaction from April, where the company announced its intention to sell 51 per cent of its 70 per cent holding in Munni Munni, is still in progress.

This sale will see Artemis sell most of its holding in the project to Empire Metals and its partner, Almeera Ventures.

Once the transaction is completed, Artemis will receive a £25,000 (roughly A$50,000) option fee and 60 million Empire shares that are valued at at least $1.5 million.

Artemis will then become Empire's largest shareholder, with a 24 per cent stake in the company and as the largest shareholder, it can appoint a director to Empire's Board.

This sale is due to Artemis believing that the project is not a high-priority, core asset for the company.

Artemis is up 5.13 per cent on the market and shares are trading for 4.1 cents each at 11:51 am AEST.

https://themarketherald.com.au/artemis-resources-asxarv-begins-drilling-at-munni-munni-project-2020-06-18/
Artemis is at the early stages of a beautiful cup & handle formation. 10 cents would complete the cup.
Blue sky north of 10 cents will eventually be reached, but buyout may occur first. The very deep seated targets that are likely an extension of the deposits Newcrest is currently drilling will require very deep pockets. There is near term exploitation at Carlow Castle that will occur much earlier. Newcrest is doing the heavy lifting at Havieron and Telfer in the Paterson Provence that may be the speculative driver of PPS for years to come. Artemis has several high priority targets immediately north of the Havieron gold-copper discovery. Very amazing
Gold: Newcrest now has 6 drill rigs turning at the enormous Havieron gold-copper project
Newcrest and AIM-listed partner Greatland Gold kicked off drilling during the June 2019 quarter. By mid-December it had increased drilling activity to six rigs at once.
This drilling continues to expand the high-grade gold-copper mineralization, which is now over 450m long, up to 150m wide, and in excess of 600m in vertical extent.
Mineralization remains open to the north west and at depth.
Gold: Drilling at Newcrest's mammoth Haverion discovery is getting super close to Artemis' project boundary
Artemis Resources focusing on building gold ounces at Greater Carlow and drilling at Paterson Central
Artemis Resources Ltd (ASX:ARV) (FRA:ATY) main priorities for the remainder of 2020 are to build resource ounces at the Greater Carlow Gold Project and drilling at Paterson Central in the highly sought-after Paterson Range.
At Greater Carlow, the company aims to delineate in excess of 1 million ounces that are capable of feeding the Radio Hill Plant
In a June update presentation to investors, Artemis outlined its key objectives for Greater Carlow in the West Pilbara as well as Paterson Central in the East Pilbara region of Western Australia.
Artemis is pushing towards a resource update at Greater Carlow, primarily from the Carlow Castle deposit, once the next round of extensional drilling has been completed.
… In sought-after region
At Paterson Central, on the edge of the Great Sandy Desert and stretching from the East Pilbara to the southern Kimberley, the company is the only junior mining company that retains a 100% interest in its tenure.
This unexplored remote area has become one of the world's most sought-after exploration provinces following the success by Rio Tinto Ltd (ASX:RIO) and Greatland Gold PLC (LON:GGP).
The only 'significant' operation in the region is Newcrest Mining's (ASX:NCM) Telfer Mine, which has produced more than 12 million ounces of gold and copper since 1975.
Artemis Resources testing targets at Paterson Central near Havieron gold-copper discovery
The company believes the project, which adjoins the Havieron discovery and is only 40 kilometres from the Telfer gold-copper mine, is highly prospective.
… Paterson Central covers 605 square kilometres and is around 40 kilometres east of Newcrest Mining Limited's (ASX:NCM) multi-million-ounce Telfer Gold-Copper Mine and also adjoins that company's Havieron JV project, which was discovered by Greatland Gold PLC (LON:GGP).
Based on magnetic and gravity survey results, Artemis has identified 13 targets with the priority for the geochemistry on seven which surround Havieron.
"A rare opportunity"
Artemis executive director Alastair Clayton said: "Our 100%-owned Paterson Central Project in Western Australia's East Pilbara is a rare opportunity to explore virgin ground surrounding and proximal to Havieron, which some analysts are already labelling a Tier-1 gold-copper discovery.
"Artemis is pursuing this highly prospective greenfields opportunity on a 100% basis to provide shareholders maximum leverage to exploration success."
also see:
Well it seems that Sprott is financing McEwen mining.
McEwen Mining Closes the Refinancing of Its $50 Million Debt
TORONTO, June 25, 2020 (GLOBE NEWSWIRE) – McEwen Mining Inc. (MUX.TO) (MUX.TO) ("McEwen" or the "Company") is pleased to announce that it has successfully refinanced its $50 million senior secured term loan facility (the "Term Loan"). As part of the refinancing, Sprott Private Resource Lending II (Collector), LP has replaced Royal Capital Management Corp. as a lender and the administrative agent for the Term Loan; and Evanachan Limited, a corporation wholly-owned by Rob McEwen, remains a lender (collectively the "Lenders"). The principal amount of the loan remains $50 million.
Easy, do you still follow Pacton Gold? What is going on in that? It seems to moving lately as well. Wasn't completely clear why from a quick look at recent news releases. Thanks!
Mike, as you already know Pacton did a 10:1 RS recently along with a $5M financing program with Sandstorm. The following article and two videos from last year pretty much explain what's going on. Yes, Pacton Gold is another one requiring patience! Rushed for time this morning, but the following links cover a lot of ground, so to speak. The summer play is at Red Lake, Ontario, not the Pilbara. Pilbara has minimal drilling budgeted this year, but is adjacent to Novo and should be as successful as de Grey "at the right time" in the future. Be sure to click the link in the following article for the rest of the info not in the post below. The video links are from last year, but they contain a lot of essential information.
Pacton Gold Begins Exploration on 5 AI Generated Targets; Plans for Phase 2 Drill Program

Mr. Dale Ginn reports:

VANCOUVER, BC / ACCESSWIRE / June 24, 2020 / Pacton Gold Inc. (TSX-V:PAC) (OTC PINK:PACXD) (FSE:2NKN) (the "Company" or "Pacton") is pleased to announce that it has commenced fieldwork for the 2020 exploration program at its Red Lake Gold Project in Ontario. Working with AI specialists, Windfall Geotek, Pacton has identified five priority target areas, including the Carricona East target, where recent reconnaissance drilling hit mineralization including 17.2 g/t Au over 0.5 m at shallow depth. The program will include drilling, as well as regional soil sampling and geophysics. Additionally, the Company is currently in the planning stage with its JV partner, Evolution Mining, for the 2020 expansion drill program on the Sidace gold project in the Red Lake district.

Highlights

2020 field program has commenced at Red Lake Gold Project. Work will include highly targeted drilling, as well as regional soil sampling, detailed prospecting, and an IP survey covering the MD corridor target area.

Five high priority targets identified using AI. The Red Lake Extension East, Madsen East, and Carricona East targets agree with previous areas of interest identified by Pacton.

Drill holes will include follow up on successful reconnaissance drilling. The 2019/20 first pass program at Red Lake targeted the Carricona, and MD Corridor targets and hit near surface mineralization including 17.2 g/t Au over 0.5 m.

Additional Information on Target Generation

CARDS analysis uses artificial intelligence (AI) and data mining techniques to identify high priority targets by combining all available public and private data sets including geophysical, drill hole, and surface data. The algorithm is designed to highlight areas of interest that have the potential to be geologically similar to other gold deposits and mineralization in the Red Lake region. Pacton is conducting early stage exploration on its Red Lake properties and is utilizing the CARDS system as an exploration tool. While data from nearby advanced exploration and producers are being used, no direct comparison to these sites should be inferred. Mineralization hosted on adjacent and/or nearby properties is not necessarily indicative of mineralization hosted on the Company's property.

https://www.juniorminingnetwork.com/junior-miner-news/press-releases/1259-tsx-venture/pac/79228-pacton-begins-exploration-on-5-ai-generated-targets-plans-for-phase-2-drill-program.html
Pacton Gold up 56% today. Glad to see any company that has Pilbara holdings recovering.
Pacton, Aretmis, Novo, DeGrey all going up big recently. Nice!
Yes, all Pilbara holdings seem to have gotten a renewed interest from investors. It looks to be just the start of some very promising prospective results continuing for many years. With the RS in Pacton there is a very tight share structure with only 20M shares in the OS. With PPS rising above $1 are we seeing some early institutional buying?
My long positions in Artemis, Novo, DeGrey are all nicely in the green with Pacton soon to follow. These have all required a great deal of patience, but thankfully it appears all four of these companies have what the early results were showing. With Pacton, it has two major holdings in play; the highly prospective Red Lake tenements where additional properties were acquired from Toma Gold. 10,000 M of drilling are planned in this high-grade gold district of Ontario, Canada.
Nullagine and Beatons Creek border on Novo's projects in the Pilbara, while Pacton's Boodalyerrie project contains a swarm of nested vein systems further to the East.




https://www.pactongold.com

from Junior Mining Network
There are vast areas for all of these mining companies to continue discoveries for years to come.
Karora Resources Announces A Significant Reduction In Beta Hunt Royalty And Strategic Partnership With Maverix Metals
TORONTO, June 30, 2020 /CNW/ - Karora Resources Inc. (TSX: KRR) ("Karora" or the "Corporation") and Maverix Metals Inc. (NYSE American &TSX: MMX) ("Maverix") are pleased to announce an agreement to reduce the gold royalty at Karora's Beta Hunt mine which, at closing, will create a strategic partnership aligning both parties in unlocking the significant value at Beta Hunt for their respective shareholders. Maverix has agreed with Karora to reduce the royalty on Beta Hunt gold production from 7.5% to 4.75% effective July 1, 2020. The reduced royalty burden on the Beta Hunt mine will allow both Karora and Maverix shareholders to benefit from a renewed focus on exploration, development and potential future production growth at Beta Hunt.
https://www.karoraresources.com/news-releases?item=285
This is a very costly royalty that was impeding progress on exploiting production growth at Beta Hunt. It is also expensive for shareholders as Karora is paying US$5 million in cash and issuing 35.1 million common shares for the reduction.
Very pleased although the deal they struck to lower the royalty is fairly costly. I'm sure they are expecting to pull out a LOT of gold out of their Beta Hunt mine to make it worthwhile. Quite a number of shareholders have speculated that they had deliberately stopped looking for the high grade material associated with the Father's Day vein due to the high royalty but shortly there will be nothing left to hold it back. One big new gold boulder and that should send this running once again if not before. Here is a nice synopsis video that came out today for those that want to get quickly up to speed on this one: https://www.youtube.com/watch?v=Jx-t6DgJ-hs
De Grey up to .72; Kairos up to .05. Pilbara, Pacton up to 1.13. Pilbara plays are hot again (thanks mainly to De Grey). Novo will have its day soon enough.
Degrey making me wish I held a little longer…
Ditto that Belmont! Could have had twice as many free shares. lol
Among the Pilbara stocks, Artemis is finally showing signs of life again.
The sector is definitely being lifted with POG up. Trend is your friend. Saw a statistic that said GDX is up 60% for the year, and GDXJ is up 70%. What's not to like?

Have both GDX, GDXj, EKWAX (401k), and hope to see them at ATH soon enough.
Bought most EKWAX @ 21
TK