Maybe a second quarter update coming? Heading into 3rd quarter, winter; then 4th quarter, a fresh spring season.
Hey cabezon! thanks for all you do for all of us!
Happy Canada Day to my fellow Canadians and a Happy 4th of July to America!
I guess the good news is they seem to be talking mostly about copper at this point, and not gold?
Maybe we hear from Auryn this week. Maybe we get some test production numbers or at least a projection as to the timeline?
Many thanks to Maurizio for giving us at least a small dose of "hopium" - I think every person here will take whatever they can get, as many have relatively big numbers sunk into this thing.
Happy 4th to all - America is still the best place to be in the world, despite everything that's happened.
Inflation rampant and gold price is under pressure. Is it just me or does it seem like it's always an uphill battle investing in this space? Wtf
Auryn said in last press release that they would do quarterly updates and do a release first week of every quarter. I am hoping we get it and fingers crossed that is shows progress.
At the beginning of this year Coldsnow expressed concern over the new government elected in Chile and the effect on mining:
I know this is dated Nov 2021 but still of interest.
Since this article, Chile did" indeed, elect a new president.
With a commitment to change things up in the mining sector of their new constitution, due in July.

Dont fool oneself into thinking that change comes slow in other countries. Just remind yourself how fast "change' came to yours.
I'd like to report that concerns have as of yet not played out and may not be of great concern near term.
Chile's economic freedom score is 74.4, making its economy the 20th freest in the 2022 Index. Chile is ranked 2nd among 32 countries in the Americas region, and its overall score is above the regional and world averages.
Chile Economy: Population, GDP, Inflation, Business, Trade, FDI, Corruption
The link provided has more information on it that may be of interest. I found it reassuring.
Any takes on why gold is in a nose dive?
It's just a hunch, but I wouldn't be surprised if this had something to do with it!
(From Crypto Mining & Trading Thread April 28)
The USD ($DXY) is quite high at 107 and 10 Y yields are > 3% and as pointed out commodities in general have been down hard of late:
commodities = -16%
gold = -16%
Gold is currently trading with commodities.
Until the dollar weakens, that is, when the Fed turns dovish in response to the pending recession, it is unlikely gold (as priced in USD) will move up significantly. At some point here once the recession / slow down is done being priced in and the Fed is done tightening, pricing in the Fed pivot will probably start. But watch gold in other currencies to potentially move first: e.g. gold in euro: Gold Price in Euro. It is actually somewhat surprising that gold has not been hurt more by the current Fed tightening pattern.
It should be update day for Auryn if they keep to the pattern of the last 18 mos.
Mining is hard!
Bravo for the update! Bravo for the efforts!
Mining is hard!
Onward!
– madmen
PS – Chile in December? That's definitely something to ponder…
Can everyone agree this is a good update?
July 2022 – Shareholder Update
Jul 8, 2022
AURYN Mining Corporation Shareholder Update
AURYN Mining Corporation (OTC: AUMC) is pleased to share its Q2 2022 accomplishments, Q3 2022 objectives, and outlook for the future.
Q2 2022 – ACCOMPLISHMENTS
Don Luis vein and Antonino tunnel
In our last update we reported that the mining team was confident they intercepted the Don Luis vein on March 31, 2022, at approximately 350 meters SSW from the entrance of the Antonino tunnel. This result was pending lab confirmation. The lab results were inconclusive.

One of the objectives in hitting the Don Luis vein is to drift a chimney to intersect the old workings and significantly improve ventilation within the tunnel. Since the team is uncertain which (if any) of the structures encountered is the Don Luis, the best course of action is to continue extending the tunnel until they can determine the precise location of where to drift the chimney. To determine precisely where they are relative to the old workings and the known high grade Don Luis vein, AURYN contracted EGV Ingeniería to produce a detailed topographical map of the tunnel and the old workings. This effort starts on July 11, 2022. Once the map is available, AURYN will re-publish the map and assay details presented below.

The miners are encountering continuous alteration in with each blast in the Antonino tunnel. The alteration zone is now more than 100+ meters in length. The Antonino tunnel now extends approximately 390 meters SSW. Weather, equipment issues, and COVID-19 all contributed to the reduced pace this quarter. (See "other items" below.)

On June 20, 2022, the team intercepted a structure that has the same geological signature as the thinner branch of the Don Luis that is found in the old workings. See assay sample FC074. This vein has the same sulfuric odor, coloration, angle, and grade as the thin branch of the Don Luis. Precise mapping will be able to confirm if it is in fact the thin branch of the Don Luis from the old workings. If it is, then the thicker, high-grade vein of the Don Luis is likely a few meters beyond this point.
Collaborating with Universidad de San Sebastian
During the second quarter students from the university focused on three projects:

Development of a new campsite
Development of an infield lab for faster decisions and results
A review of all the historical data available of the Fortuna Project on public and private databases

Final reports on these projects are expected to be ready in the next month.
Other items
To bolster our team and prepare for production, AURYN hired Hector Ledesma, Mining Engineer.

On May 25, 2022, AURYN contracted with Andes Analytical Assays, ("AAA"), a certified lab in Chile, to analyze samples from the Antonino tunnel. The agreed time for lab results is now 6 working days from delivery of samples. Under the direction of our consulting geologist, the team identified and collected more than 15 samples of structures in the Antonino Tunnel. These samples were sent to AAA for analysis and are included in the results below.

Weather. Weather and environmental conditions were extreme during the second quarter. Generational rains with accumulation of over 50 mm of rain in 24 hours forced the team to evacuate the camp early in the quarter. They returned to significant water accumulation which required remediation. On other occasions the team had to evacuate for multiple days due to snowstorms and extreme cold, only to return to frozen pipes in the water remediation system which need to be repaired.
Water accumulates in the tunnel at up to 10,000 liters per day. The water is removed prior to drilling and blasting which takes time, especially after heavy rains or snow melts with multiple days of accumulation. Altogether the team lost approximately 5 weeks work to weather related events and excessive water accumulation.
Equipment issues. The team experienced several days loss of operation of the scoop due to mechanical failure. After analysis, one of the team members discovered a design flaw in the scoop's air filter and injection system. They solved it by installing a different flow system and have not had issues with the scoop for several weeks.

COVID-19. Despite following best practices in personal care and vaccination, the entire team came down with COVID-19 in late June. Operations ceased and the entire team was sent home for rest and recovery. At the time of this update, a large part of the team has experienced a full recovery. Thankfully, others who are still experiencing symptoms are not hospitalized and are expected to fully recover. Work is expected to resume on the mountain during the second week of July.

On June 1, 2022, Chilean mining authorities visited (unannounced) our project and carried out an inspection. They indicated their satisfaction with the quality of the tunnel construction and of our ventilation system. No issues were raised, and work continued.
Map
Assays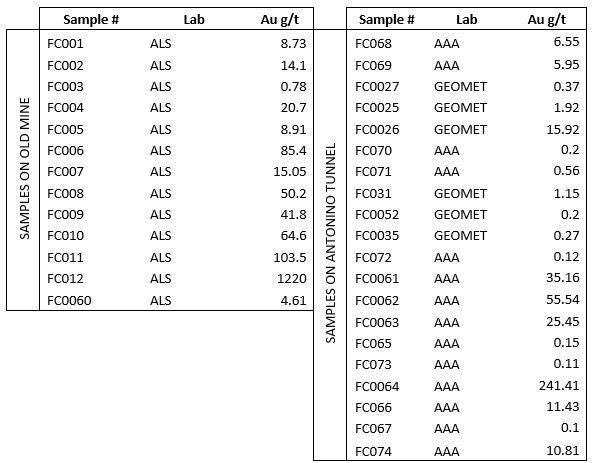 Q3 2022 – OBJECTIVES
In the beginning of Q3 we expect to have a detailed topographical map of the Antonino Tunnel and old workings. This will enable us to identify our precise location relative to the old workings and where to begin drifting the chimney and constructing the gallery.
Install a new high-powered electric water extraction system which will extract excessive water accumulation in a few minutes.
Construct an evacuation/ventilation chimney following the Don Luis vein to the old workings. The chimney will have an approximate slope of 20° and length of 30 meters.
Construct a gallery with an area of 50 square meters to support construction of a T to exploit the Don Luis vein in both directions.
Exploit the Don Luis in both directions. At the 20-meter mark on the east side, construct a spiral to support exploitation of the vein at lower levels.
OUTLOOK
Communications
AURYN is making plans to host a shareholder meeting in Santiago, Chile. The tentative date is December 6, 2022. We are contemplating hosting small group tours of the property for shareholders during this time. Further details will be communicated in the coming weeks.
AURYN will continue to publish required financial disclosures at OTC Markets. Quarterly shareholder updates will also be released on OTC Markets and on our website during the first week of each calendar quarter along with a gallery of images and videos. To receive notification of these via email, subscribe on our website. For occasional intra-quarter updates, follow @aurynmining on Twitter.
Mining
Management remains bullish as we continue to uncover new structures in extending the Antonino tunnel. These new structures, and a detailed map, will determine where to begin drifting the chimney and begin exploitation. We anticipate our mining teams to spend most of quarter preparing the mine for exploitation at the current level and sub-levels. Minor production will occur during this process. Results will be reported accordingly. Once fully prepared, exploitation begins.
Financial
To date, a third party is paying for AURYN's exploration efforts. AURYN's Board of Directors is monitoring expenditures with a commitment to reimburse the third party (without interest) from production. There are 70,000,000 shares issued and outstanding and AURYN does not anticipate any dilution from our exploration efforts.
AURYN's plan is to use future cash flow from production to pay off exploration debts and expand operations. Management's desire is to eventually become debt-free and produce fully audited financials prior to seeking to move to a higher tier on the OTC Markets.
For further information please visit our website, https://aurynminingcorp.com.
Submitted on behalf of the Board of Directors.
Forward-Looking Statements
This news release contains certain forward-looking statements within the meaning of the United States Securities Exchange Act of 1934, as amended. This forward-looking information includes, or may be based upon estimates, forecasts and statements of management's expectations with respect to, among other things, the completion of transactions, the issuance of permits, the size and quality of mineral resources, future trends for the company, progress in development of mineral properties, future production and sales volumes, capital costs, mine production costs, demand and market outlook for metals, future metal prices and treatment and refining or milling charges, the outcome of legal proceedings, the timing of exploration, development and mining activities, acquisition of shares in other companies and the financial results of the company. There can be no assurances that such statements will prove to be accurate and actual results and future events could differ materially and substantially from those anticipated in such statements. Mineral resources that are not mineral reserves do not have demonstrated economic viability. Inferred mineral resources are considered too speculative geologically to have economic considerations applied to them that would enable them to be categorized as mineral reserves. There is no certainty that mineral resources will be converted into mineral reserves.
Contact Information
Auryn Mining Corporation
Sign up for Notifications
Glad to see they are getting a professional, topographical map to know their precise location. Also super happy to see the contract with AAA and a 6 business day turnaround. No more flying blind!
It's clear progress last quarter was stunted with about 50m of advancement instead of the normal 100+. Five weeks lost to weather and remediation. Add 3-4 weeks for C19 and equipment failure and you basically are looking at only 1/2 quarter of activity. As Madmen said, "mining is hard." Thank goodness, no dilution.
Nice grades on some of those assays! Santiago in December sounds better than DC.
Yes, thank goodness. NO INTEREST and NO DILUTION of shares. And now we have samples assayed with the results listed. A handful of backward steppin' with a few leaps forward, and we're still charging ahead. What a business! Aside from the weather, water accumulation, and C19 slowing the plan, Maurizio's team was also delayed due to the "design flaw" in the scoop's air filter/injections system.
The equipment manufacturers should bear some responsibility for the design flaws, not unless the scoop was part of the agreement made with North Chili. North Chili agreed to supply Maurizio's team with equipment "samples" to be used for updating and constructing. So I'm assuming that Maurizio agreed to terms with North Chili to take these risks? Just a thought.
Lets be objective here, they called out intercepting the DL more than once. That's embarrassing the second time. Should have waited for the results but they jumped the gun.
The delays are the reality of being a small time operation as Baldy will soon remind us all. If we had a mid or major involved none of these delays would be happening. Is it really that MC doesn't want to part with this piece of the property? Hmmm. Or is it an interested major thinks that Auryn will finally capitulate as they spin their wheels, so they prefer to hold back for now? Or is it like Baldy says, that this discovery is nowhere on their radar screen because its not even close to being de-risked enough for them to make a play?
If we had a mid or major involved here some of these delays would still be happening, and you would own1/2 or less of the shares you do now, with no guarantee of any appreciation in price.
Regarding your questions. You're missing the right one. Is it that the cost of capital at this stage is far too expensive (i.e. dilutive) to shareholders, the largest of which is MC.
They should be out of ways to not find the DL this quarter unless something is significantly and unexpectedly wrong. They are only a few meters below the known existing works so it is very unlikely the nature of the DL could change that much over such a short distance. So it seems very likely they will find their way and get their chimney built this Q.
MC then gets paid. He has quite a lot invested here by this time and with the professional help he is raising the stakes by 'loaning' more. But as stated before, there is almost certainly enough high grade hot spot ore to make sure MC gets his money back. So that is fairly low risk for him.
But the variation in those grades even across very short distances, which mirrors what was seen in the high grade areas of the Caren, raises the uncertainty as to what the average grade of this vein will turn out to be. The fact that in the old workings they had a fairly small area that averaged 60+ gpt raises an eyebrow to be sure. But it is very short of proof that this kind of grade will hold up across hundreds of meters of vein. Maybe you average 64 gpt all the way down 500 meters and out 1 km+. And if so, it's bonanza super lottery winner time. But that's a big assumption. You could just as well have occasional pockets of 10m or 20m or 30m where you can hold that average and then another 30m, 40m, or 50m where you average very marginal grades.
Everything will end up depending upon average ore grade and width of the vein across longer distances of say hundreds of meters. And we just won't know until they start exploitation. But it looks like we'll find out this next Chilean summer as the exploitation begins. And if they start publishing news of regular truck loads of even 20+ gpt ore at multiple levels for a couple of quarters and we see some AISC information that looks decent, then our ship is coming in. If on the other hand, grades fall much below 10 gpt, then things are going to get pretty tough for the whole self-funding and expanding operations approach.
So this implies that after over 20 years of waiting, we should know a lot about where we stand in about a year.
I'm looking for December of '23 to see if we've made a very profitable investment here. I look forward to Quarterly reports and informative updates until then.
GLTA
Great post. The other thing to think about is the alteration zone of over 100m. This came from somewhere.