Might as well start anew everywhere!
The following are daily charts of /ES, the S&P500 emini contract in a channel. The black lines outline a rising/bearish wedge which I posted two or three days before the breakdown occurred. The measured move of the breakdown correlates rather nicely with the lower channel line, with horizontal support lying right around 30 points lower. It may prove useful, maybe not.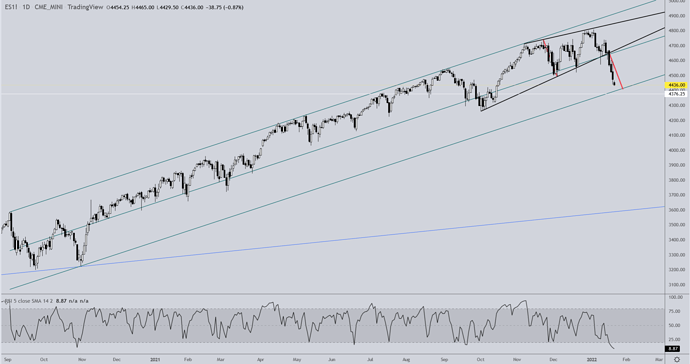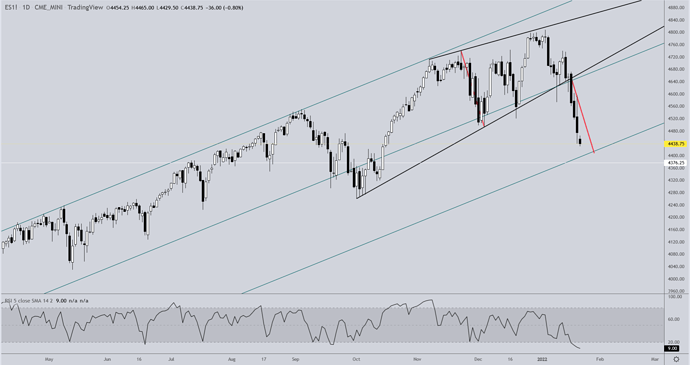 Rich,
Appreciated if you could post a chart analysis on USO - United States Oil Fund.
Hay a question to the Canadians out there. Whats going on with the truckers up your way? Lots of our delivery truckers talking about some unrest going on?
It's Also chit chat on the C.B bands? Thanks in advance.
I'm not Canadian, but perhaps there is a study that many Canadians have seen that has raised some alarm bells!
Pfizer's own 6 month report data on its COVID-19 inoculation shows that greater illness and death in the inoculation arm than the placebo arm. Plus, poor trial design, missing data, underpowered studies, passive surveillance and more. For the PDF of this presentation visit:
There's also a video presentation of the same slide deck on the site to the left of the PDF version.
Ok I did find some news about the truckers on boarder of Canada.
Funny the state I live in borders Canada, and there is nothing, zip" on the news channels around here about it all last week ? Mmmmm?
Search turned up something about it on CTV news.
(Sorry I could not link it up to this text)
But try CTV News ; Then punch up… Ottawa police to get more help from RCMP to address trucker convoy protest.
That will cover most of it. *Its of interest, because Some of our companies supplies come across from Canada.
Actually the truckers are just protesting Trudeau's harsh mandates revolving around C19 policies. Very similar to the what is occurring in the US, Canada's public is better informed due to the site information I just posted on Pfizer. ( Of note, add Sweden to the list of countries lifting all C19 restrictions.) Yes, commerce across the border is definitely being negatively effected and adding to the supply chain problems in Canada and the US.
CS, it's a problem that's been building for far too long. The same problem is true for US truckers.
CMC discusses supply chain issues with Canadian government

CMC asked Champagne to start working with the US to reverse the vaccine mandate for cross border truckers, which has continued to cause disruptions to integrated North American manufacturing.

January 24, 2022 by CM Staff

OTTAWA — The Canadian Manufacturing Coalition met with Industry Minister François-Philippe Champagne, to discuss the need for government action on supply chain bottlenecks, labour shortages and trade protectionism.

CMC stated that it asked Champagne to start working with the US to reverse the vaccine mandate for cross border truckers, which has continued to cause disruptions to integrated North American manufacturing.

The CMC represents over 30 manufacturing trade associations and is chaired by the Canadian Manufacturers & Exporters.

"We thank Minister Champagne for sitting down with manufacturers to talk about the supply chain problems that are plaguing Canadian manufacturers and already affecting the availability of food and goods for Canadians across the country," said CMC Chair Dennis Darby, President and CEO of CME in a statement.

"This is a good first step, but now we need to see concrete action by the government to start addressing these challenges, starting with reversing the trucker vaccine mandate."
>
Darby emphasized to the Minister that Canadian consumers and manufacturers are facing the same problem.

"We can't get the goods we need because of the supply chain bottlenecks made worse by the trucker vaccine mandate. Our manufacturers can't operate, and Canadians are seeing empty shelves," said Darby in a statement.

The CMC also discussed the ongoing labour shortage caused by a surge in cases of the Omicron variant.

"Between supply chain problems, labour shortages, and trade protectionism from our biggest trade partner, the US, our sector is being hit on multiple fronts. We need government to help relieve pressure by avoiding policies that make the situation worse and to help us get the workers we need," said Darby in a statement.

Canadian manufacturers will keep working with the government to address these challenges as the pandemic has shown the importance of manufacturing to Canada.

"We want to strengthen our sector and see it grow so it can continue to drive our economy. We look forward to our ongoing partnership with government to achieve that goal."

According to statistics from CMC, the manufacturing sector represents more than 10 per cent of Canada's gross domestic product. Manufacturers directly support more than 1.7 million jobs in Canada. The total manufacturing sales in 2019 surpassed $685 billion.
Last night on another thread here I mentioned I'm long AMRK @ 78.25. There's a guy who manages his family fund who has been making some very good calls during the 8 months I've been subscribed to a trading service. I'm going to share some of what I get from him here. You all know to do your own DD and I'm not an advisor and all that. I'll post some things shortly and continue on here…
This info is from the end of December…
ALJJ has 40m shares outstanding. They should be retiring all of their debt and slowly sell their businesses. Expecting an eventual stock price of $5 - $7.
I traded this but don't currently own it.
SV & SVSVW (warrants)
Do some quick DD on this company. The shareholders have a vote at the end of the month for a merger which is expected to be approved, shortly after it will get a new symbol. As I understand it this is the only tech like it in this space and there seems to be quite a bit of excitement about it. Uranium Insider came out today with at $10.5 price on the warrants.
Just a followup for those interested. I did pick up a few shares in SVSVW a while back.
Spring Valley Acquisition Corp. Announces Effectiveness of S-4 Registration Statement and the April 28, 2022 Special Meeting of Stockholders to Approve Business Combination with NuScale Power

04/08/2022

Upon closing, the combined company's common stock is expected to trade on the New York Stock Exchange under the ticker symbol "SMR"

DALLAS–(BUSINESS WIRE)-- Spring Valley Acquisition Corp. (Nasdaq: SV, SVSVW) ("Spring Valley"), a publicly-traded special purpose acquisition company, today announced that on April 7, 2022 the U.S. Securities and Exchange Commission ("SEC") declared effective the Registration Statement on Form S-4 (the "Registration Statement"). This announcement is in connection with the proposed business combination between NuScale Power, LLC ("NuScale" or the "Company") and Spring Valley ("the business combination"). This transaction will result in NuScale, the industry-leading provider of proprietary and innovative advanced nuclear small modular reactor ("SMR") technology, being the first publicly traded company focused on SMR technology.

Spring Valley will mail the definitive proxy statement/prospectus (the "Proxy Statement") to stockholders of record as of the close of business on March 25, 2022.

Spring Valley will hold a special meeting (the "Special Meeting") of its shareholders to vote on the approval and adoption of the business combination agreement on April 28, 2022, at 10:00 a.m. Central Time at the offices of Kirkland & Ellis LLP located at 609 Main Street, Suite 4700, Houston, TX 77002, and via a virtual meeting at https://www.cstproxy.com/svac/2022. Spring Valley shareholders of record as of the close of business on March 25, 2022 are entitled to vote at the Special Meeting.

The business combination is expected to close shortly after the Special Meeting, subject to stockholder approvals and satisfaction of other customary closing conditions. Upon the closing, Spring Valley will change its name to NuScale Power Corporation ("NuScale Corp."), and NuScale Corp. shares and warrants are expected to be listed on the New York Stock Exchange under the ticker symbols "SMR" and "SMR WS".
(Spring Valley Acquisition Corp. Announces Effectiveness of S-4 Registration Statement and the April 28, 2022 Special Meeting of Stockholders to Approve Business Combination with NuScale Power | NuScale Power)
May be worth keeping the new stock, SMR, after the merger on your watch list.
Also see:
NRC Approves First U.S. Small Modular Reactor Design
September 2, 2020
(NRC Approves First U.S. Small Modular Reactor Design | Department of Energy)
TR, Perhaps you could take a look at the chart on CRGE:
NEW YORK, NY / ACCESSWIRE / April 26, 2022 / Charge Enterprises, Inc.(NASDAQ:CRGE) ("Charge"), consisting of a portfolio of global businesses with the vision of connecting people everywhere with communications and electric-vehicle charging ("EV") infrastructure, today announced the successful completion of a $10.0 million financing pursuant to a previously disclosed Securities Purchase Agreement with an investment vehicle controlled by Island Capital Group LLC ("Island Capital"), a merchant bank with synergistic investing and advisory platforms specializing in real estate and real estate related transactions. Charge issued approximately 1.43 million shares of Charge common stock at a price of $7.00 per share in exchange for cash proceeds of $10.0 million. The company also issued warrants to purchase up to 2 million shares of Charge's common stock with an exercise price of $8.50 per share with a three-year term. Charge intends to use the proceeds of the transaction for general corporate purposes, including organic growth initiatives.

"Opportunities continue to emerge within the dynamic electric vehicle charging and 5G wireless network installation space, and we see Charge's impressive management team moving aggressively to capture this growth. We are excited to increase our investment in Charge and to partner with them in pursuit of innovative strategies," said Andrew L. Farkas, Managing Member, Chairman and Chief Executive Officer of Island Capital.
CRGE
Daily: Support so far again @ the red MA currently finding resistance on the violet. So far is repeating the same pattern as the previous pullback in March. If it continues then watch for a consolidation betw those two MA's with a gradually rising support area. If it loses red MA support watch the blue on the daily and the violet on the weekly.
Anybody have any lithium companies they are following? Mining or manufacturing will do. Thanks. C.s.
These are the ones I'm long on:
SQM
OROCF (Orocobre/Allkem)
ALB
LAC (covered calls)
Relatively few oil plays being discussed. A couple oil and gas exploration and production companies I'm looking at seem interesting enough to have a closer look at. I have not yet acquired shares in these but intend to. My thinking is that Canadian oil companies will continue to do well in a less restrictive regulatory environment than US based companies. Admittedly I'm late in getting into these as they've excelled the past couple of years. These appear to be value plays to me based on sustained cash flow. As per usual, do your own DD , but you may want to add these to your watch list. I'm including longer interval weekly charts on these.
MEG Energy – TSX:MEG
"The first quarter was a record quarter for MEG from both an operational and financial perspective" using steam-assisted gravity drainage extraction methods.
Also, MEG has started a share buyback program under normal course issuer bid
(NCIB).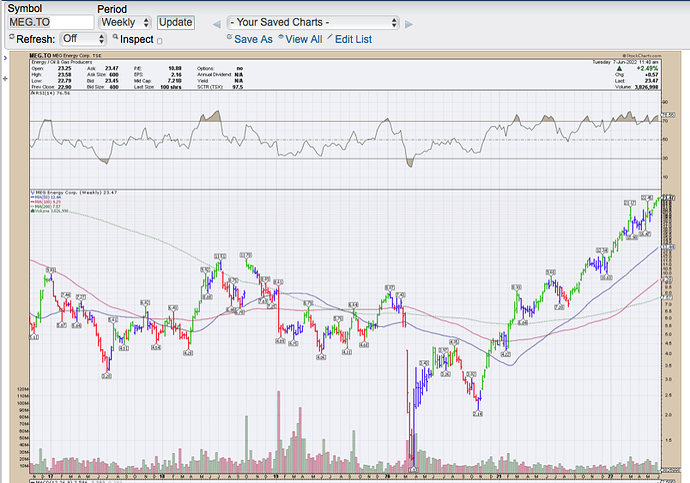 Tamarack Valley Energy – TSX:TVE
Monthly Dividends starting , payable on June 15, 2022, to shareholders of record at the close of business on May 31, 2022.
I have a pretty long list, but here are those I'm watching more closely:
OILK
BPT
EGY
AMPY
ERF
MRO
EOG
OXY