That's a very interesting set of pictures. The perspective confused me for a while.
Here are a couple of ADL pictures, one I produced a long time ago. The perspective of #1 is generally looking NORTH with the Gordon Breccia behind you. You can see the trenching Auryn has done along the Merlin #1 vein. The second image was one I created a long time ago, which looks back toward the south and which identified the work of Auryn in that area and the building which appeared in Dec. 2012.
The important thing to note is the 3 adits over the north edge of the plateau, which I have shown in Google Earth before, and how steep the slope is there. Obviously that side of the mountain makes for difficult working conditions. The road to get there had to wind around in a loop and try and find an approachable path. The building which appeared in 2012 was placed off of this loop in a little "switchback" which put the building / trailer on flatter terrain.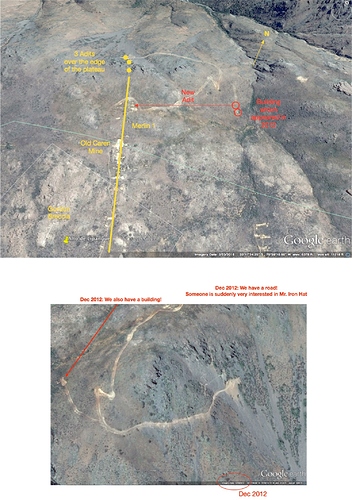 I expected Auryn to be working in one of the 3 original adits - two of which they described earlier as being nearly collapsed. Many of the adit gold samples came from one of the adits, the middle one, I think.
But the images on Medinah's Facebook page do not match up to that north side of the mountain. Those pictures clearly are not from that spot.
But if you imagine swinging around toward the east and look west right at where that building is in 2012, and a new adit appearing right next to it - hmmm - looks like a pretty good match.
So my interpretation is that they chose an easier spot to work from and their two months of prep work are really creating a new adit that will go from east to west and intersect the Merlin 1 in approximately 2 months. The distance from Google Earth appears to be a little more than 500 meters. 5000tpm ore will come out at this point. Obviously it is much easier to get haul trucks into that spot than to that steep north face. We do not know if or where any local concentration is to occur. Or maybe that will be later.