"There is a serious case of denial going on". Not only denial but a lot of misinformation from the Chinese. Infections are most likely a minimum of 3 times more than being reported. The truth will come out in dribs and drabs but most assuredly our administration won't report the worst of it for fear of a market crash which could be a disaster for Trump.




The internet there has now been basically shutoff. 60% of Chinese normally have access to the internet. The current level of internet traffic in China is now the same as Denmark per web traffic monitoring sites. CCP is doing everything they can to silence things at the moment so indeed hard to figure out what is happening. All the numbers provided so far have been debunked; basically fiction. Based on body counting that is going on from some reporters on the ground at the 49 crematoriums in the Wuhan area that are running 24/7; at least 1200/day are being burned there for the last 17 days…i.e over 50,000 dead.
De Grey Mining up another 20% this morning.
Looking for more assays this week. Sprott will be commenting on De Grey this Friday as part of his Sprott Money weekly wrapup.
After hours De Grey announces "Hemi gold prospect provides more positive results for De Grey Mining"
Additional thick and high-grade gold mineralisation intersected on Section A consolidates a significant 30m wide gold zone to 130m depth, open in all directions.
44m @ 5.1g/t Au from 40m in BWAC320, including 13m @ 8.8g/t
46m @ 6.6g/t Au from 92m in BWAC321, including 21m @ 8.3g/t
Results correlate strongly with previously announced results on Feb 2020 including:
24m @ 7.5g/t Au from 126m in BWAC315, including 18m @ 8.6g/t (EOH)
49m @ 3.7g/t Au from 65m in BWAC309, including 18m @ 6.6g/t
36m @ 4.0g/t from 39m in BWAC245, including 11m @ 8.9g/t
Technical Director, Andy Beckwith, commented:
"These are stunning results - high grade, thick and consistent. Clearly, drilling below this zone and the mineraliszation on Section B are two key high priority RC targets. We are looking forward to receiving the remaining aircore drilling results and re-commencing drilling activiities now the cyclone has dissipated."
Here's the latest on the Coronavirus:
108 people in mainland China died on Monday, the biggest single-day death toll yet. 2,478 new cases were identified in mainland China, bringing the number there to 42,708. As of Tuesday, 43,101 people were infected worldwide.
I[quote="MikeGold, post:219, topic:1057"]
Northern Dynasty is advancing the world-class Pebble Project in Alaska towards permitting and development.
[/quote]
Northern Dynasty has been on again the last couple of years- off again, mostly due to local opposition.
Sure looks to be on again with recent preliminary environmental permitting news:
Northern Dynasty: US Army Corps of Engineers shares preliminary Final EIS with cooperating agencies
Provided by Accesswire
Feb 12, 2020 3:45 AM PST
Key federal permitting document finds Pebble will protect fishery & water resources of southwest Alaska
VANCOUVER, BC / ACCESSWIRE / February 12, 2020 / Northern Dynasty Minerals Ltd. (TSX:NDM)(NYSE American:NAK) ("Northern Dynasty" or the "Company") reports the US Army Corps of Engineers has distributed a preliminary version of the Final Environmental Impact Statement ("EIS") for southwest Alaska's Pebble Project to federal, state and local cooperating agencies.
While as yet a deliberative document, and hence not final, the preliminary Final EIS portrays a mine development project that will co-exist with the fisheries and water resources of Bristol Bay, while making a substantial positive contribution to the socioeconomic health and well-being of local communities.
A presidential change(if there is a presidential change) next year probably will end the project indefinitely but it has somehow survived a lot of abuse so far. Don't follow it closely anymore but recall they lost their major mining partners. My guess, some very limited underground portion of it may eventually happen.
Due to lack of proper media coverage in China, I found that Twitter of all places is giving a far more accurate accounting on what is going on. (Search on #covid19 then hit latest tab), or the following specific accounts: @COVID19__News, @PneumoniaWuhan, @disclosetv, @leaksit, @COVID19Info, @chaddha_lal, @IsChinar, @ContagionTrack, , @DrEricDing) On youtube try: https://www.youtube.com/user/MEDCRAMvideos or this guy who is a little over the top but does put out a lot of factual articles: https://www.youtube.com/channel/UCD2-QVBQi48RRQTD4Jhxu8w Note-if you spend a few hours going through all the information, be careful you don't develop PTSD. (Example-rumor in China that dogs carry the virus-result thousands of dogs being beaten to death with horrifying videos documenting it!) Situation in China is dire. At a minimum, it will likely spread easier than HIN1 flu virus which infected 10 to 20% of the world's population in only a year. Closer to home, not sure how much longer the markets will remain propped up.
De Grey Mining up another 20% today. I sold my position at .133 for like a $50 profit. Considering I was down over 75% on it for most of the year (with little reason to average down on), I'm ecstatic to get my investment back.
Now, the newly discovered Hemi prospect in the Pilbara Australia region is very interesting and if I had a lower cost basis, I'd consider holding longer for drill results and an initial resource estimation which should be out in the next week or two. But after the stock has more than quadrupled in a couple weeks, it is prudent to take my money off the table and be happy I made it back to green.
I'll continue watching De Grey though because they seem to have quite a deposit at Hemi.
Gold is up about $50 an oz. over the last 6 months but the stocks that make up the NUGT etf are down a third. . . . from $45 to $30. How disappointing is that??? And, despite gold being up $30 an oz. over the last 7 trading days NUGT hasn't moved a lick. This is really strange. NUGT is trading like it's going to break big some time next week… . but which way.?? If anyone has any insight on what's going on please let me know.
If you're beholden to trading an etf that follows miners instead of gold then I don't have any answers, but if you want an etf that follows the movement of gold then you'd be better off looking at something like GLD, IAU, SGOL, or DGL. These are etf's that actually move with the price of gold, not the miners.
As for the gold chart, I would be tentative about buying right now as the weekly interval gold chart looks overbought to me, with bearish divergence on the RSI. Gold has found resistance over the past 6 weeks at the 1580 - 1600 level, which is the 62% retracement of its all-time high of 1923. If this resistance holds, a shallow pullback could take it to the 1520's, and a deep one could bring it back to between 1340 and 1400.
TR, you're much more conservative than I am. Between June and Sept. you would have made 20% and I would have made 300%. I'm prepared to take the risk due to the huge difference in return. Unfortunately I can't keep an eye on it every minute of the day but nevertheless I've doubled my money since June while you would have had a nice 25% gain. Here's to your continued success !!
Congrats!

Just got an email saying Eric Sprott is pushing these silver stocks:
Silver Producer League:
Pan American Silver Corp (AMEX: PAAS) Market Capitalization US$4.5 billion, 2019 Production 25 million oz silver equivalent* , Resources over 1 billion oz silver
First Majestic Silver Corp (AMEX: AG) Market Capitalization US$2 billion, 2019 Production 20 million oz silver equivalent*, Resources 620 million oz silver
Hecla Mining Co (NYSE: HL) Market Capitalization US$1.4 billion, 2019 Production 35 million oz silver equivalent*, Resources 191 million oz silver
Silver Development-Stage League:
Silvercrest Metals Inc (TSX:SIL, AMEX: SILV), Market Capitalization US$ 700million, 2018 Production nil, Resources 87 million oz silver.
New Pacific Metals Corp (TSX-V: NUAG, OTCQX: NUPMF), Market Capitalization US$ 600million, 2019 Production nil, Silver Resources Not Available, it's a new discovery in Bolivia.
Prophecy Development Corp Corp (TSX:PCY , OTCQX: PRPCF), Market Capitalization US$30 million, 2018 Production nil, Resources: 51 million oz silver.
I just realized that I didn't notice NUGT is a 3x leveraged etf. That's why you would have done better. Anyway, if you want a 3x etf that moves with gold, the one I know if us UGLD. Doesn't appear as though you need it with all of your gains though!
Hi TR,
Do you have a chart going back to 1923 that you could post (I didn't find one). The following is a quite interesting chart showing POG relative to the S&P over the past 50 years.
50-year chart shows how cheap gold price still is relative to stocks

Frik Els | January 23, 2020


The gold price was drifting sideways on Thursday, down some $50 an ounce from a brief (but glorious) near seven-year intraday high above $1,600 an ounce a fortnight ago.

But the metal remains firmly in a bull market with a 20%-plus rise over the past year. Go back 20 years, and the rally is even more spectacular considering at the turn of the century gold was trading for a relative pittance of $270 an ounce.
https://www.mining.com/this-50-year-chart-shows-just-how-cheap-gold-now-is-relative-to-stocks-39584/
*Note: On the chart above the vertical Y axis represents ounces of gold needed to buy the S&P. The origin (lower left) starts at 6 and peaks in 1980 at less than 0.2 OZ.
Thought I might as well show spot price today as well: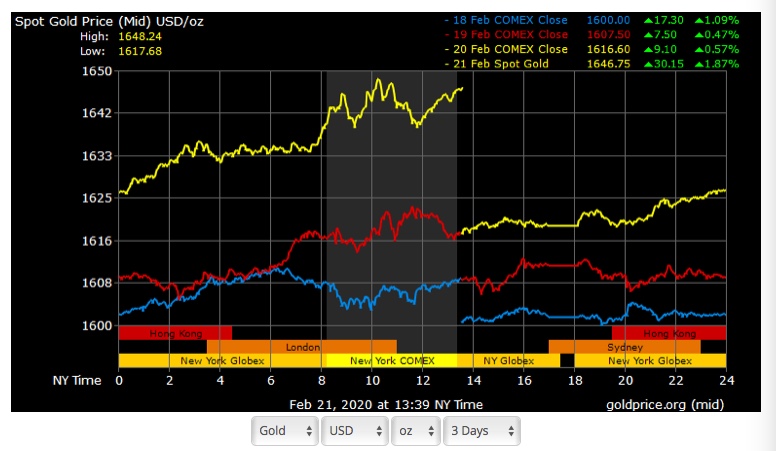 Hi Easy…
Nope, my chart only starts at '75.