FWIW Sprott likes these hole results, from his weekly chat at 9 minutes
I bought more this morning at .65C. With these resuls and others on the way, I think RNC gets bought out at a premium sooner rather than later. And probably by KL.
Yes I bought some the other day, did well on first run but still hold a small amount at .80 so averaged down thinking she should do well moving forward. good luck on this one

Thanks for pointing to this presentation, part of the deck which includes: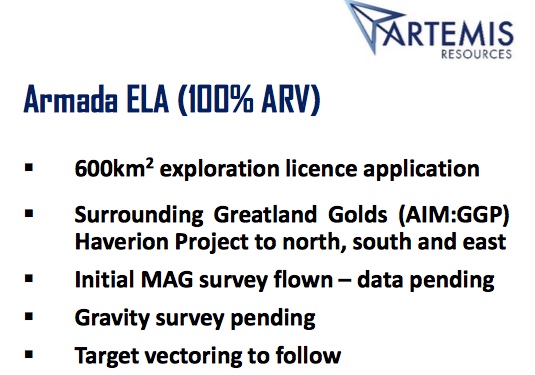 This following PR on Greatland Gold (AIM: GGP) also caught my eye as part of the Patterson Region:
'World-class' copper-gold intersection uncovered at Paterson Province, Rio Tinto ups exploration ante in the Pilbara

Greatland Gold (AIM: GGP) has added some kindling to the copper-gold rumours in Western Australia's Paterson Province after it struck a "world-class" 275m thick intersection at its wholly-owned Havieron project, near mining giant Rio Tinto's (ASX: RIO) rumoured major copper discovery.

The result was reported from the first hole of the drilling program, with the 275m intercept a combination of upper and lower mineralised zones.

The upper zone totalled 118m at 3.08 grams per tonne gold and 0.84% copper from 459m, while the lower zone intersected 157m at 6.04g/t gold and 0.44% copper from 660m.

Within those zones several high-grade intervals were noted with grades up to 211.3g/t gold and 8.45% copper.

"The remarkable peak gold and copper grades of 211.3g/t and 8.45% copper, respectively, are significantly higher than in previous drilling," Greatland chief executive officer Gervaise Heddle said.

"These stunning results represent a world-class intersection as measured by total mineralisation in one drill hole in excess of 1,500m grams gold equivalent," Mr Heddle explained.

He added the elevated copper and gold mineralisation persisted to the end of the drill hole and indicated mineralisation continues at depth, with this belief supported by "detailed geophysical data".

Greatland's Havieron licence is part of its Paterson project, which covers about 385sq km in the Paterson Province.

According to Greatland, initial airborne data identified the Havieron target as 1km by 1km and 400m deep.

The company said modern drilling equipment allowed deeper anomalies to be "easily" tested.

https://smallcaps.com.au/world-class-copper-gold-paterson-province-rio-tinto-exploration-pilbara/
also see from Dec 4 https://greatlandgold.com/wp-content/uploads/2014/01/20181204-GGP-AGM-Presentation.pdf

Little filler while we wait on more drill results
KL on a nice run, kicking my ass not buying some when it was in the $20's
Opps…I had put this in the wrong thread:
Artemis put out their quarterly report:
https://backend.otcmarkets.com/otcapi/company/dns/news/document/34762/content
Looks good except for:
"As reported in the September 2018 Quarterly, mechanical refurbishment and installation of key processing equipment at Radio Hill (Figure 8) remains at ≈ 80% complete with outstanding electrical and instrumentation, minor structural repairs and plant piping to be completed once final approval for TSF3 is received and Artemis has defined:
a. 2-3 years of plant feed from its extensive gold and base metal asset base; or
b. equivalent tonnages of gold ore from third parties or joint venture partners.
Either of these options could support the final investment decision to complete plant refurbishment.
With respect to TSF3 approvals, the key submission to the relevant government department was made in late October 2018 and final approval is pending."
I think investors were expecting the gold plant to be completed in the very near future; now it appears open ended. This will put some pressure on all the Pilbara stocks I suspect.
Oh dear Mike, I'm sure admin can give you a pass this time.

FWIW…Sprott added another 500k shares to his already large holdings of RNX at .63 Cdn. Friday.
This video gives you a good feel for just how large/extension they expect the various super high grades zones to be. They have multiple shear zones that extend for more than 4 km. Each shear has a sedimentary layer where gold boulders are expected to be found. (ie a few meters thick X 4 KM X multiple shear zones with similar geology.)
Lot more drill results expected this month.
Artemis placed in trading halt this evening, pending reorganization of the BOD and management team.
Is this going to be a good or bad thing? I think it was them that just had their auditor quit which normally isn't good. I know that some other boards have suggested the officers have been giving them themselves lots of loot at shareholder's expense with the Company really hurting for money. My guess it is another example on where the original officers of the Company were scammers who just happened to stumble into a real asset. ( Don't have to look very far for another example of that!

)
There is lots of David Lenigas criticism (former CEO, now Chair) esp. among the native Austrailian shareholders. Basically he has a bad reputation from the past based on I'm-not-sure. He has only been with Artemis a few years. The shareholder base is very sensitive to dilution type scamming (as are we all these days) as previous to DL the company printed tonnes of shares, reverse split, and has printed lots of shares again up until the last 18 mos or so when the Pilbara story started.
To DL's credit, he got the Novo JV, he picked up the Radio Hill plant when everyone thought it was a crazy idea (now all SHs just want that plant running), and he made a nice acquisition of 4M Novo shares as part of the JV and sold them to Kirkland for a cool $20M which now seems like a really nice maneuver. So about a year ago they had almost $40M in cash which is what made them stand out in my mind. And no shares have been created since then.
Unfortunately, they seem to have gone all unfocused with that money and spent it on the plant and have made progress but have hit regulatory hurdles in regard to creating a new tailings storage facility (something they may not have misjudged in terms of time and difficulty). They just revealed it is 80% done with no timeline to completion and basically shocked SHs. They have also spent lots of exploration money on many targets with limited concrete final results (e.g. a pfs or even a solid final resource for one of their properties).
Now they report they are down to $6M. So they haven't started printing shares yet, but everyone can see it coming soon. With the SP now below $.07 U.S. the death spiral has begun. They can't issue more shares without destroying the already strained capital structure. So, what to do? Reorganize apparently.
Bottom line, DL seems like more of a money raiser / promoter than an operator. They need some serious execution and probably more expertise. The way this is happening, it can't be a tender offer, but it could definitely be introduction of a major partner (e.g. Sprott) with money in and seats on the board given. That's how Novo went. And something like that would probably be a good thing at this time.
A. Sprott (Chair of KL) personally and thru Kirkland Lake has a big position in Novo.
B. Artemis has a conglomerate gold JV with Novo. When that happened Artemis sold $12M worth of Artemis shares to Sprott Capital Partners[1] which is not often talked about. But after that DL seemed to try hard to use a 'straight arm' to keep Sprott and KL at a distance
C. Recently Artemis signed a deal with Pacton Gold to run conglomerate gold through their plant. Sprott has a big position in Pacton.
D. Both Novo and Pacton could really use the RH plant for trial mining of conglomerate in order to prove this thing is mineable. But DL made apparently was making it hard to work with Artemis.
So, all those things suggest it may be time for these companies to work together on a hard problem that most other big companies have chose to watch rather than participate in. They all need KL's and Sprott's cash / capital to make this work and DL's vigorous Austrailian push back on the Canadian takeover of the Pilbara was not leading to success.
All imo. The above speculation could be completely wrong.
---
Looks like David is out and an existing guy was elevated. Kinda of ho hum?
5 February 2019
Board and Management Restructure
His Highness Sheikh Maktoum Hasher al Maktoum appointed Non-Executive Chairman
Artemis Resources Limited ("Artemis" or "the Company") (ASX:ARV, Frankfurt: ATY, US OTCQB: ARTTF) advises
the following Board changes with effect from today's date.
His Highness Sheikh Maktoum Hasher al Maktoum has been appointed Non-Executive Chairman. H.H Sheikh
Maktoum Hasher al Maktoum has been a Non-Executive Director of Artemis since 26 October 2017. He is a
member of Dubai's ruling family and is the President of Al Fajer Group, Chairman of Dubai International
Holdings, Chairman of Manannan Hydro Limited and a Non-Executive board member of the Commercial Bank
of Dubai.
H.H. Sheikh Maktoum Hasher al Maktoum has a BSc. Business Administration and Finance from Suffolk
University in Boston, USA and was awarded CEO of the Year by CEO Middle East in 2009 and awarded a Young
Global Leader by the World Economic Forum in 2007.
He replaces Mr David Lenigas who has resigned as Executive Chairman and Director of the Company, due to
the demands on his time from family and his other business activities.
H.H Sheikh Maktoum commented,
"On behalf of the Board and the shareholders I would like to take this opportunity to thank Mr Lenigas for
his significant contribution to the development of the Company since his appointment in November 2016,
including the key role he played in expanding the asset base of the company and securing the necessary
funding to advance those assets.
I am excited to accept this role and assure our shareholders that I am committed to working to providing
the leadership to move the Company forward. I have the skills and experience to facilitate this and my
business interests include mining and exploration projects in other parts of the world."
As a part of this restructure, the Company advises that Mr Alex Duncan-Kemp has resigned as a Director of the
Company. The Board takes this opportunity to thank Mr Alex Duncan-Kemp for his service to the Company.
Effective today, Mr Dan Smith has been appointed a Non-Executive Director of Artemis. Mr Smith BA is a
Commercial Director at Minerva Corporate, an established corporate services business based in Perth,
Western Australia. He has significant experience in capital markets and corporate governance of ASX listed
companies. Mr Smith is a non-executive director of ASX and AIM listed Europa Metals Limited, ASX listed
Lachlan Star Limited, HIPO Resources Limited and White Cliff Minerals Limited.
Mr Edward Mead continues as an Executive Director of the Company.
Sheikh Maktoum Hasher al Maktoum
Non-Executive Chairman
Yeah. My wishful thinking did't pan out.
DL brought this guy onto the board 12 or 18 mos. ago saying he could help raise funds that would enable Artemis to pay their portion of the Novo JV expenses without being in danger of being taken over by Sprott / KL. He has not done anything documented publicly up to this point to help the company so this is a turn to be sure.
Remains to be seen if he communicate a plan, execute, raise an appropriate amount of money to complete his plan without printing too many shares, and in the end raise the SP.
RNX ran a bit today to .66. Rumors are that they will report operating results this week. We'll see if that pans out or not.
And the reason RNX was up yesterday:
Sprott bough 676,500 shares on the open market at a average of .6174 ($417k).
https://ceo.ca/api/sedi?insider=&symbol=RNX&date=&transaction=&amount=&undefined[company_symbol]=RNX
To quote Sprott himself- "When you're a big owner and you're buying it in the market - something's happening."