Great day for Bitcoin today.
That's not going to stop Bitcoin or cryptos Elrac, there's heist everywhere, I thought cryptos was
a scam to, and now that I did my research, I think it's the future, you will miss on the next big thing since the internet, and BTW, experts says it will be 100X bigger than the internet.
When you get to my age, its about avoiding risk and preserving your assets. I have no problem missing this…I'll watch from the sidelines with interest thanks.
Hey, no problem
Someone forgot to tell the central banks of China, Russia, India and Turkey plus a few others
If I would have put my 50K in Bitcoin at .10 instead MDMN

, I would have had 500,000 Bitcoin, I will let you calculate the total, if only I could turn back time.
LOL! Ditto. I was doing some cryptomining back then too and decided to go MDMN way instead of BTC after BTC started dropping. Felt MDMN was better chance at "home run". Doh! What an idiot. I would have had closer to a million BTC right now.

Again, what an idiot. Hindsight's 20/20 as they say. I learned a lesson, an expensive one, but I learned it. I'm significantly more diversified than what I was then. And although I always look to the next big thing (regardless of financial arena) I will not push "all in" but look only to add a bit to diversify.
Bitcoin has just about hit the 38% retracement of the inverted head & shoulders bottom move. Next is to see if it regains support at the 20 ema and 130 ma which are right on top of each other. Below that is trend line support and the 50% retracement level. There will also be a new uptrend line drawn which the price isn't close to so I left it off to lessen the clutter.
IBM and crypto blockchain helping big banks.
Bitcoin/Dollar Daily Interval is approaching the 62% retracement level of the breakout from the inverted head & shoulders bottom. I also have three uptrend lines drawn that all could provide support. If either of the first two hold it would make for a nice steady uptrend for Bitcoin and help strengthen the 5755 low as the low of the drop. I purchased 100 shrs of GBTC @ 9.92 today in the event a bottom is hit off hours. I expect to add to that when I see a low is confirmed. I'll take a loss if the lower of the two uppermost uptrend lines loses support.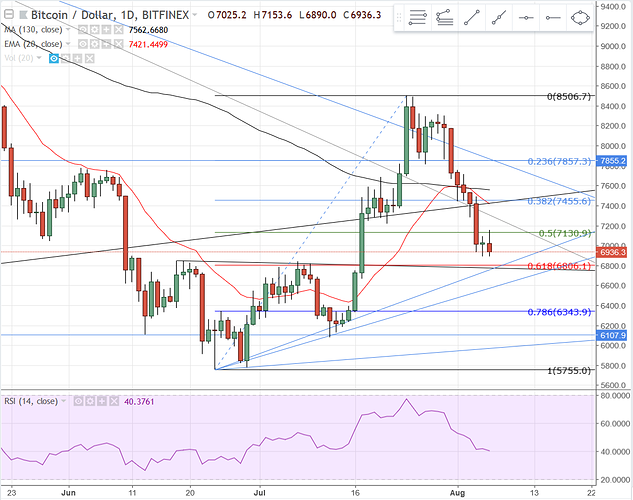 Bitcoin was weak trading all day so I took a $29 profit on my 100 shares today and went back to wait n see mode. Glad I did now, as it's currently testing the second blue trend line.
Down through the 62% retracement, through the neckline support, through the 78% retracement, and likely to the last uptrend line and possibly, even pretty likely, a retest of the lows. Not what I want to see if I'm long. This lost $2000 worth of value in ten trading days with hardly a pause. The only positives I'm seeing right now are that it's nearing oversold on the RSI and 6100, where it got a little bounce yesterday, is a decent support area. So far though there is no indication of a bottom in the candles.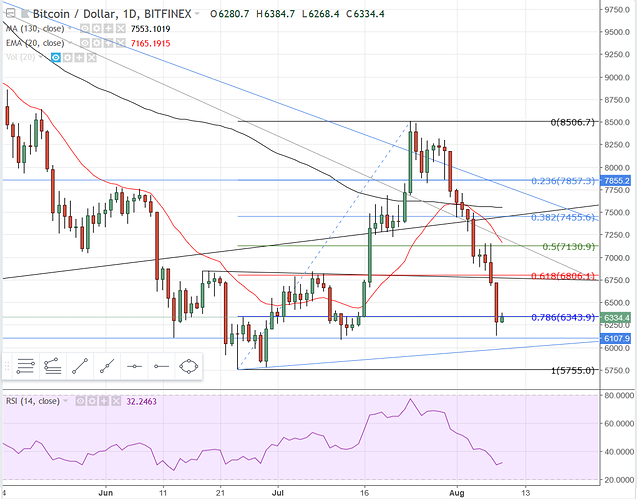 Been a little quiet, looks like the remains from the Mt. Gox fiasco have been affecting the BTC market. The removal from bankruptcy should help stop the flow of steady sells.

Market seems to be taking this news and the bears are starting to leave the room.

what's up with cryto's today? Another sea of red today?