Gold still moving high 1324 current 1317
Finally closing above 1300.
Did something occur in April that MDMN may now be under slow accumulation?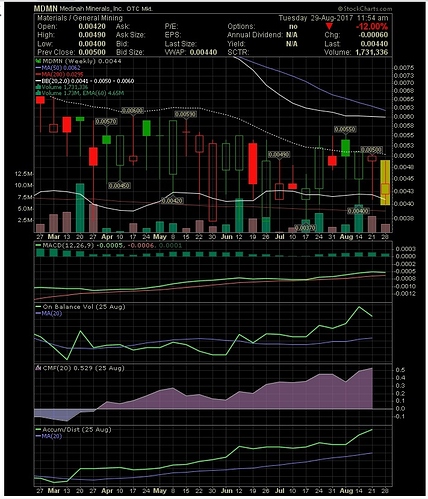 Oh now I remember, Auryn CEO, Maurizio Cordova, and consulting geologist, Dr. Raymond Jannas, accompanied Dr. Sillitoe to review Auryn's exploration data and tour the property the month before. Just sayin'. Draw your own conclusions.
How many shares would you say have been accumulated (maybe)?
Not sure just how you would determine that, but from Yahoo Finance historical data from late March, where adjusted closing price shows as "0" (average less than 0.005?), the cumulative trading volume is 47,978,100. Cumulative volume in the same date range where adjusted closing price is shown as "0.01" is 65,317,500.
I don't know if that tells you much, though. A large part of that date range includes trading before financials were filed and stop sign removed from OTC site. Contrary to some opinions, it may just indicate up to shares that were sold to take advantage of tax loss selling (writing off the loss in a trading account, not IRA or ROTH) and buying back after waiting more than 30 days before buying back at the same or lower cost.
Gold is hot, so does Copper, a bit of news would be nice.
I dislike the silence but it is what it is. Complaining here is not going to help.
We are a minority shareholder in a private company. When and if they go public the frequency of news should change. Looking forward to it.
FWIW this is the logic that has been keeping me sane which I just posted on the other forum. Thought I'd offer it here since it's relevant…
If nothing else, in Cerro we own a stock with a tight OS that could be
an attractive vehicle for someone looking to go public. I believe good
things are coming for us. Just don't know when. In regards to both MDMN
and Cerro, it seems to me if the news was bad we would already have been
told. There would be no reason for the prolonged silence and I believe
that Kevin wouldn't be so cruel as to torture us for all this time only
to tell us that either company was dead. I believe in both cases the
silence is golden. We just need to keep what little thread of sanity we
have left long enough to endure whatever process is going on behind the
scenes. Just my opinion.
Yep – That's what I have left!
Hoping Kevin is recovering fast from his back surgery and hoping everyone has a great labor day weekend!
I know we have many Texans here. Hope all is well with you folks!
If I stay in this country my next move is likely to be somewhere around San Antonio.
I hope all are staying afloat as well!
I wasn't aware he was having problems. Speedy recovery to you Kevin… wish you spoke with me first though!
Happy last weekend of summer to all as well.
The link below will take you to the Chile Explore Congress 2016, remember?
Luciano Bocanegra which he represents Auryn explains about the Alto, the geology, Caren mine, etc…
The problem is its in Spanish. Is the a video translator?
MG made a brief notice of this a while ago. But here is some more detail on the visual changes to the Caren Mine entrance indicating 2017 work, esp. from Feb to April 2017, which is the latest pic Google Earth offers.
The change from Feb 11 to Feb 22 was quite sudden. The color of the debris looks rather different than what was thrown down the hill previously.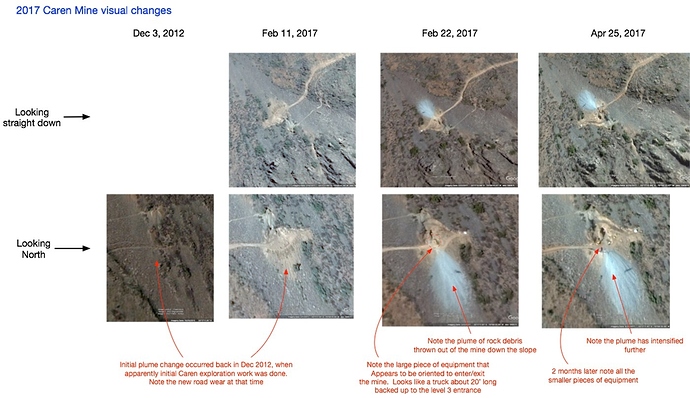 Thanks for posting. I know MG posted a pic drawing attention to what your series of pics clearly show and annotate. MG also posted earlier on Jan 13:
"Work continues on two fronts as we extend the Larissa tunnel to the south and blast a new chimney."
"CEO Maurizio Cordova inspecting work on the new chimney currently about 10 meters above the Larissa tunnel."
"Mineralized ore from the Larissa tunnel."
I would like to add that the "Larissa" tunnel is currently the main production adit at Level 3 of the Merlin 1 vein. The "south" direction is along strike of the vein as it heads across the Alto Plateau in the general direction of the Pegaso porphyry target. I believe the new chimney is probably a required safety chimney so that there is more than one way of escape in the event of a tunnel collapse. The chimney probably can be done in a way that connects the various levels of the mine and also cuts into new virgin ore on the way upward.
It looks as though AURYN proceeded rapidly to work on uncovering the full length of the 42m intersection of the main Larissa adit, but also the section that continued beyond which was commented on in AURYN's Jan 30 Notification:
We expect that this intersection extends vertically at least 30 meters in each direction with similar grades and width. Our speculation is that this vein is not the same vein that we uncovered in September on level 2. The vein on level 2 returned bonanza grades which we reported on at the informational meeting. However, further exploration and analysis is necessary to make a conclusive determination.
Mid February a decision was made by AURYN to pursue accessing the U.S. capital markets as a Foreign Private Issuer. It appeared that with the cash call in mid-March AURYN successfully separated completely as a subsidiary of MASGLAS. It was at this same time AURYN announced:
Auryn Mining Chile SpA (Auryn) is pleased to host Dr. Richard Sillitoe at the Alto de Lipangue from March 15, 2017 through March 19, 2017. Dr. Sillitoe is an independent international consultant and one of the world's leading experts on epithermal gold systems and porphyry copper systems.
I took the liberty of bolding a few things that caught my eye as being significant. I expect there is a very good reason AURYN was excited enough about what it was finding to move all these events forward rapidly and keep a very tight lid on progress toward meeting SEC requirements for accessing U.S. capital markets as a Foreign Private Issuer. The silence is not because things are at a standstill on the ALTO, IMO.
Let's hope so! September is here and the 4th quarter is around the corner.