Good Rick Rule interview on the increasing M&A environment among esp. gold companies:

Overall, a good day for PM Mining stocks.
Could today be the start of the bear market reversal?
They are primarily buying a deposit (Relief Canyon) at Feasibility Study level of maturity, worth around $154M (pre-tax NPV / 5%) for just over $50M in stock.
It's a pretty small deposit with a defined life of 5 - 6 years. But because of the numbers above the post-tax IRR is almost 90% with only $23M required to put it into production. Pershing Gold has a higher market cap and some cash and cash flow which will make coming up with that $23M probably somewhat easier and less painful.
Americas Silver is obviously having problems making a profit on their mines at current silver prices which is the metal they are focused on. Welcome to the world of silver producers. I know of multiple silver producers in Mexico making considerably better money on their base metals (zinc, lead etc) than on silver.
This acquisition is about diversification via a mine of high enough grade to get the company cash flow positive and potentially out of debt without costing too much to get into production. So it makes sense.
It all depends on metals prices. If metals prices go up share prices will go up.
I actually bought a little today. But I would be cautious. Q3 has been a quarter of lower gold and silver prices. This means reported Q3 numbers coming out in early November are likely to be quite poor. Silver companies specifically probably going to have very painful numbers as silver prices in Q2 were over $16 for most of that quarter. This quarter has been mostly in the $14s and $15s. And tax loss sales are in the near future.
Having said that, silver does look like it could be recovering with a low back in early September. Note even with silver's bounce gold and silver are both nearly at their 50 DMAs now with RSIs right around 50. I would look for good performance in the shares in late Dec & esp. Jan if it doesn't happen before. Jan is often a good seasonal month for PMs. Shares could start earlier in anticipation of better prices.
Silver needs to get back into that $16 to $17 range to really enable some profitability to show up in Q4 numbers (which won't be reported until March 2019).
Regarding the Australian Pilbara plays (ASX-listed companies)…
It was a year ago the above article appeared amid the Pilbara discovery hype. It was an interesting article with a short description of each company mentioned. Yesterday I took a look at these companies to see which ones had been in the news lately.
A year later there are a few still in the news making progress, but few have done well in terms of sustained PPS since the article appeared. Below I captured the PPS as of yesterday out of curiosity. It may be quite a while for those we've been posting about in this thread to be productive. All are in very early stages of possible production. Will a change in PM prices give a few of these a lift? Is it more likely we will see tax loss selling in the near future with buy backs early next year?
Artemis Resources (ASX: ARV) 0.19
De Grey Mining (ASX: DEG) 0.15
Kalamazoo Resources (ASX: KZR) 0.78
Calidus Resources (ASX: CAI) 0.03
Chalice Gold Mines (ASX: CHN) 0.15
Coziron Resources (ASX: CZR) 0.16
DGO Gold (ASX: DGO) 0.67
Haoma Mining (ASX: HAO) —
Kairos Minerals (ASX: KAI) 0.033
Marindi Metals (ASX: MZN) 0.007
Rumble Resources (ASX: RTR) 0.055
Southern Hemisphere Mining (ASX: SUH) 0.064
Venturex Resources (ASX: VXR) 0.17
Millennium Minerals (ASX: MOY) 0.215
Impact Minerals (ASX: IPT) 0.012
Kirkland broke out today. I missed my fills in the high 17s and was reluctant to chase…looks like I should've. In hindsight the bounce off of the 200 MA 2 weeks ago was a green flag.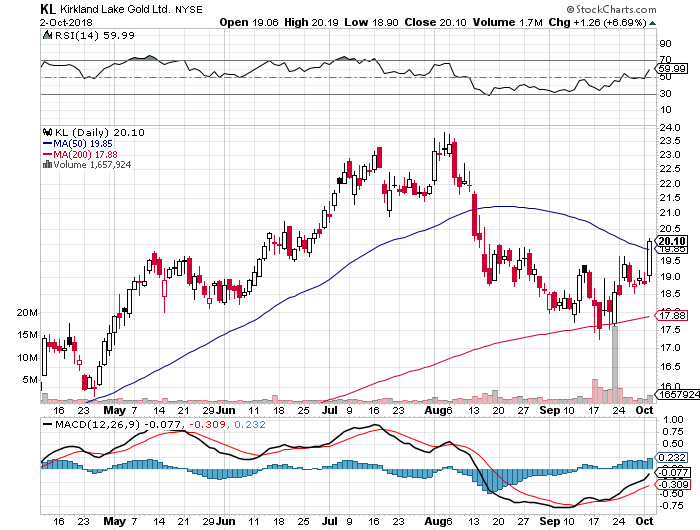 Eric Sprott Q&A regarding Australian gold stocks…
"It may be quite a while for those we've been posting about in this thread to be productive."
Actually I think Artemis is pretty close to being productive. From what I gather the plant
could be up and running by December. We'll see.
The plant is operational. It is being expanded for greater capacity and functionality…
In August 2018 the Company received approvals allowing it to install and commission a new tertiary crusher, gold circuit and our newly refurbished crushing and grinding units.
Under the new amendment to Environmental Licence L7922/1989/5 the Licence holder (Fox Radio Hill Pty Ltd – a wholly owned subsidiary of Artemis) now has an approved Stage 1 throughput capacity of 500,000 tpa. Stage 1 activities include the installation and operation of a modular gravity gold processing unit and associated crushing and milling equipment. The new infrastructure to be installed includes:
(Annual Report for 2018 Page 12)
A HP200 cone crusher (tertiary crusher);
A gravity gold recovery circuit capable of treating up to 500,000 tpa of gold ore;
A gold room with the capability to refine and produce gold dorè; and
Product sampling and dewatering facilities.
This Stage 1 infrastructure will be operated with the existing multistage crushing and grinding plant which are approved under Environmental Licence L7922/1989/5.
Under the current approvals the Company can operate a geotube facility as a temporary solution to contain gravity circuit rejects for potential future retreatment. Geotubes are an interim but high cost option available to the Company that will be further assessed depending upon the timing of tailings storage facility (TSF) TSF3 approvals.
Concurrently, Artemis will advance submissions needed for Stage 2 base metal operations at Radio Hill including a new, 4Mt tailings storage facility (TSF4).
Defining resources sufficient to detail mining plans and obtain mining licenses is what may take an extended time until Artemis is at full production. Radio Hill plant will be capable of handling refining activities for nearby mines owned by other companies.
De Grey Mining boosts gold bounty at Pilbara project to almost 1.4 million ounces
Interview with Simon Lill - Executive Chairman, De Grey Mining
Historical Data confirms what you are saying:

https://stockcharts.com/freecharts/seasonality.php?symbol=%24gold&compare=
November data for $Silver?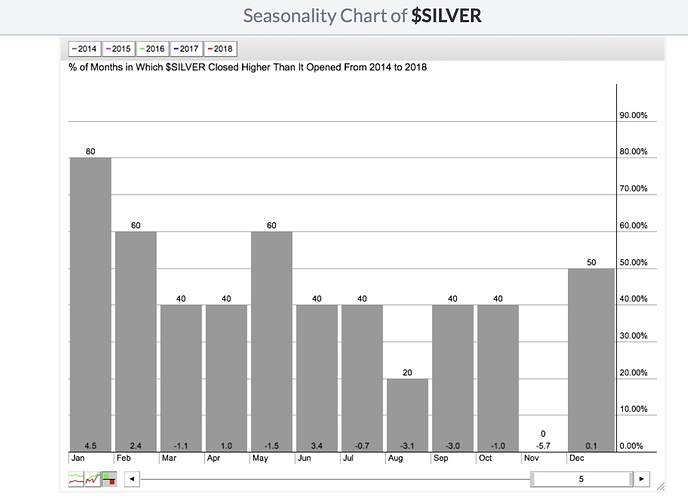 https://stockcharts.com/freecharts/seasonality.php?symbol=%24SILVER&compare=

05:30 06 Oct 2018
TheRod - thanks for this link!
GBR.V had another good day…somethings pushing that stock up. Someones buying the rumors
Curious to see what Sprott has to say in his weekly wrapup after his Australia trip. Hoping to hear something on the Pilbara, Novo and RNX
Rob McEwen and McEwen Mining have made approx. 50% in one month on their investment in Great Bear Resources. Not bad. With so few shares outstanding in Great Bear I wouldn't be a bit surprised to see Great Bear's stock hitting $2.50 soon. It closed at $2.05 yesterday . . was purchased at $1.45
With gold ripping today, a lot of gold stocks are breaking out of their recent ranges and flags. SAND and MUX finally broke out to the upside. The Pilbara plays are sadly lagging, but they're more speculative.
Rich, would love your technical take on gold and whatever stocks are of interest chart wise. Thanks!