Karora Announces Further Discoveries at Beta Hunt Mine: New High Grade Larkin Gold Zone and 30C Nickel Trough Driving Increase to 2020 Exploration Budget
Photos(3)
Highlights:
"Larkin Gold Zone" – New broad, high-grade gold discovery south of Alpha Island Fault1.2.:

BE30-003: 8.2 g/t over 3.9 m
BE30-004: 3.3 g/t over 15.8 m
BE30-007: 3.9 g/t over 11.0 m
BE30-010: 15.3 g/t over 3.5 m
BE30-011: 7.4 g/t over 8.9 m
Wall Sample (BD40ACCLHW_002): 5.0 g/t over 14.4 m, including 22.7 g/t over 2.6 m

"30C Nickel Trough" - First new nickel discovery at Beta Hunt in 13 years1.2:

BE30-007: 3.8% Ni over 2.3 m
BE30-009: 7.7% Ni over 1.3 m
BE30-010: 8.6% Ni over 1.0 m
| 1. | Result show downhole thickness. True thickness cannot be estimated with available information |
| --- | --- |
| 2. | Tables showing complete results and drill hole locations can be found at the end of this news release. |
Increased Exploration Budget – As a result of drilling success year to date and the multiple high quality exploration targets at both Western Australian operations, the 2020 exploration budget has been increased by ~50% to A$15M from the previous A$9.5-A$10M
Bob Moriarty Interview yesterday on the J Taylor Show:
Starting at 49:00.
MY SYNOPSIS: Let's just say Bob is a very "colorful" character. He talks about monkeys being smart enough to invest in Novo and suggests the other mining professionals who couldn't figure out the Pilabra for 140 years as "idiots". Entertaining. That being said, he shares a bit of the backstory behind Novo Resources and why they don't seem to be getting that much publicity (only he, the Hedgeless Horseman, and J. Taylor seem to talk about it). The gist of it is that all these people (suggesting the pundits and other mining professionals) are very JEALOUS of Quinton Hennigh, who has taken the Beaton's Creek project and proved that it is in fact economic using unorthodox methods. Therefore, nobody wants to talk about it. Bob predicts that Novo will be producing at the rate of 125,000 ounces per year at the 18-month mark. He also says Quinton set back the beginning of production from December, 2020 to January, 2019 because they didn't want to hire a bunch of people and then immediately give them 2 weeks of vacation (makes sense to me). Bob says Quinton is his best friend and is writing a book about the Novo story, set to be released the day they start pouring gold.
Cash flow out the gazoo. LOL
DEG raises $100M. Yikes.
"Commitments received for a Placement of approximately 83.4 million shares priced at A$1.20 per share to raise $100 million (before costs)"
Money is definitely flowing into the sector now. DEG has had an unbelievable year.
Novo Settles Millennium Minerals Limited's Debt to IMC
VANCOUVER, British Columbia, Sept. 14, 2020 (GLOBE NEWSWIRE) – Novo Resources Corp. (" Novo " or the " Company ") (TSX-V: NVO; OTCQX: NSRPF) is pleased to announce that Novo's recently acquired wholly-owned subsidiary, Millennium Minerals Limited (" Millennium "), has today settled all debts (the " Debt Settlement ") it owed to IMC Resources Gold Holdings Pte Ltd and IMC Resources Investments Pte Ltd (collectively, " IMC "). Please see the Company's news releases dated August 4, 2020, and September 8, 2020 for further details.
All amounts are in United States dollars unless indicated otherwise.
Millennium has repaid IMC's secured debt of approximately $50.3 million (A$69 million) by way of payment of $43.7 million (A$60 million) in cash and the balance by procuring the issuance by Novo of 2,656,591 units of Novo (each a " Unit ") issued to IMC at a price of C$3.25 per Unit (the " Debt Consideration "). Each Unit is comprised of one common share of Novo (a " Share ") and one-half of one transferable Share purchase warrant (a " Warrant "), with each whole Warrant entitling the holder to acquire one Share at a price of C$4.40 for a period of 36 months after the closing of the Debt Settlement. Novo has provided funding to Millennium to ensure Millennium had sufficient cash to allow repayment of the cash portion of the Debt Settlement.
Immediately subsequent to the issuance of the Units comprising the Debt Consideration, IMC holds 9.67% of the issued and outstanding common shares of Novo.
The Units issued to IMC pursuant to the Debt Consideration are subject to statutory and TSX Venture Exchange hold periods expiring on January14, 2021; in addition, a further contractual hold period will apply to half of the Units issued to IMC, increasing the hold period for those Units to 12 months.
About Novo Resources Corp.
Novo is advancing its flagship Beatons Creek gold project to production while exploring and developing its highly prospective land package covering approximately 14,000 square kilometres in the Pilbara region of Western Australia. In addition to the Company's primary focus, Novo seeks to leverage its internal geological expertise to deliver value-accretive opportunities to its shareholders. For more information, please contact Leo Karabelas at (416) 543-3120 or e-mail leo@novoresources.com.
On Behalf of the Board of Directors,
Novo Resources Corp.
"Quinton Hennigh"
Quinton Hennigh
President and Chairman
Artemis finally finished selling its shares of Novo. Perhaps will start to see a recovery in Novo's share price?
A guy writes the following on Novo on Stockhouse:
September 15, 2020 - 12:38 PM
98 Reads
Post# 31560370
@AUinvestor

on Novo

@AUinvestor Excellent… spot on. However, I'd describe the current set-up a bit differently… I wouldn't say that Novo is transitioning form explorer to producer (although I'm certain that it's viewed that way), instead I view Novo transitioning from an explorer, to an explorer-producer with emphasis on an explorer in the very initial stages… an "explorer-producer" in the initial stages with decades more of exploration and expansion of production… many explorers that prove up resources, are captive to the Lassonde curve as they do transition from explorer only to producer only… not Novo Resources. Furthermore, (and here's the kicker in my view)… Novo Resources is being priced in with a lot of risk as only an average potential producer in the pre-production phase/trajectory of the Lassonde Curve… not as an explorer with huge blue sky potential. As one that studies their bulk samples at various properties… one realizes that Gold just doesn't jump 12 clicks from sample to sample… the Gold is potentially continuous between those bulk samples. That is where the potential for the Gold resources to quickly grow. Most successful producers have average size deposits, but few have the potential for a world class high-margined deposit or even a Grasberg or Muruntau style freak deposit given Novo's huge land package and/or QH's Witwatersrand Gold precipitation theory.

1) This potential for a world class deposit is not even remotely being priced in.

2) Novo's rapid advancement of technological methods for mining this course nuggety Gold is not being priced in either as it has not been proven yet.

3) Novo's ability to become a producer (in addition to its continued proven status as an explorer) is not being factored in either… it won't be until QH unveils his team of experts to run the mill and until they prove their abilities starting the 1st Qtr 2021.

4) Once all these realizations come together in synergistic fashion that in fact Novo continues as a successful explorer proving up ever more Gold resources in a favorable mining jurisdiction (perhaps one of the best when compared to most others), continues to work well with the aborigines and Australian government to secure the permissions and mining permits, demonstrate their abilities to expand Gold production year after year, and bottom line produce large profits that grow each year, the market will price in low cost Gold production decades into the future sending the price soaring.

I don't view this like I did many of my stocks that I purchased in late 2000 for pennies that later proved up a multi-million ounce Gold/Silver deposit and then later were bought out by a producer or in rare cases transitioned into a producer from an explorer. Novo will be both, an explorer proving up ever more Gold ounces in the ground, and a producer expanding production year after year. So I think that there are enough people that think the Lassonde curve applies here to Novo Resources, but soon enough will see the bigger picture described above.

2021 appears to be the time frame that Novo will accelerate in price as a profit curve is developed and extrapolated upon… I know, because I've gone through the process many times attempting to evaluate a company's share price based on a projection of its Gold production curve. As uncertainties are removed, doubts dispelled, knowledge gained, confidence built, the share price will continue to rise in exponential fashion.

Anyway, that's my take… back to letting it all unfold in Novo's own unique manner.
More on Novo for those following Novo Resources.
QH interview starts at 17.15 mark

Kudos to @Freddybaler001 for this link
NOVO starting to recover nice - up 13 cents so far today - I guess it's true the Artemis selling was a somewhat of a drag on the stock price.
Hi Mike, do you know anything about First Mining Gold Corp (FFMGF) ?
No but I see that they have a decent website: https://firstmininggold.com/
I have somewhat lost interest in Canada and focusing on Australia instead but no doubt there are still a few gems found elsewhere.
Novo sells their Blue Spec property/mine to Calidus Resources for $19.5 million. Novo coincidentally owns 5.6 million shares of Calidus (2.56% ownership).
From July 2
Thank goodness this one is finally waking up! Here is 6 month Daily chart.
Anyone else still in this one? Used to be a Pilbara darling. Regrettably, Artemis had to sell it's 50% stake in Novo (gave up Beaton's Creek) to raise $5.78M to move forward. Sad to see, but glad to have shares in the current trending Pilbara plays I started with (DRG, KRR, NVO). These three all did reverse split restructuring to get share structure "right sized", as did Pacton Gold recently. Must be what was needed as even Pacton Gold (also a long-time hold from early days) is starting to wake up and coming to life, much to my pleasure. For Artemis, Carlow Castle drilling and Paterson mining license covering the Havieron is making a difference.
6 month daly chart for Artemis (ARV.AX)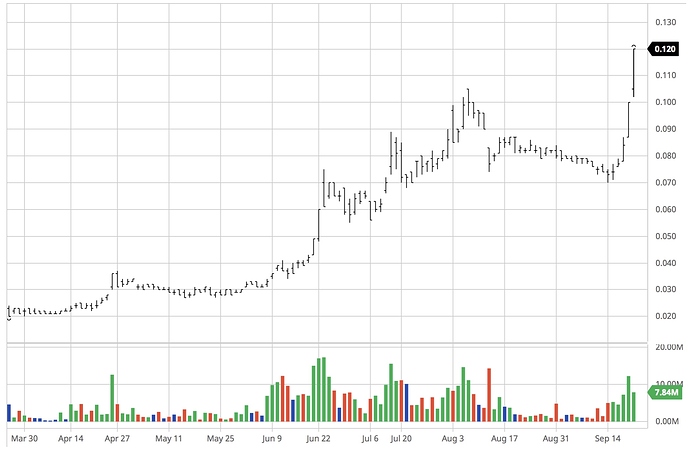 … and 6 month daily chart for Pacton Gold (PAC.VN) for anyone interested.