Too late!
FSM This chart was fun! Weekly interval shows an EVE & ADAM, so Fortuna is apparently a chivalrous silver company. Funny thing is, as of yesterday the target was hit. The chart is nice to show you this, but it doesn't help much as far as what to do next…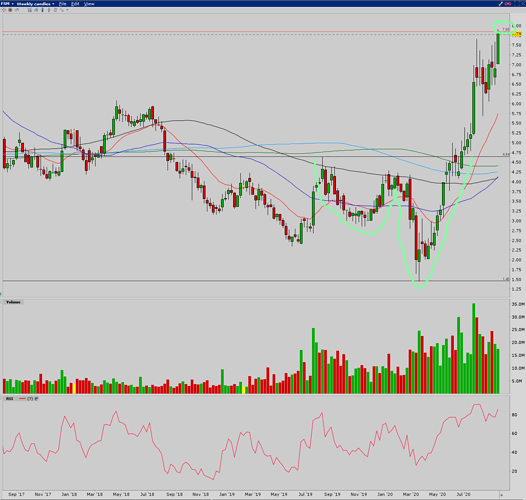 So, what to do next? I don't really know, but the daily chart might be giving a hint. I couldn't help but show the obvious Adam & Eve formation that was stealthily hiding within the larger Eve & Adam. Anywho, note the blue 50 MA offering the threat of support anytime the red 20 EMA was looking weak. Note also the last two high prices and the divergence on the RSI. Early sign of selling to come?..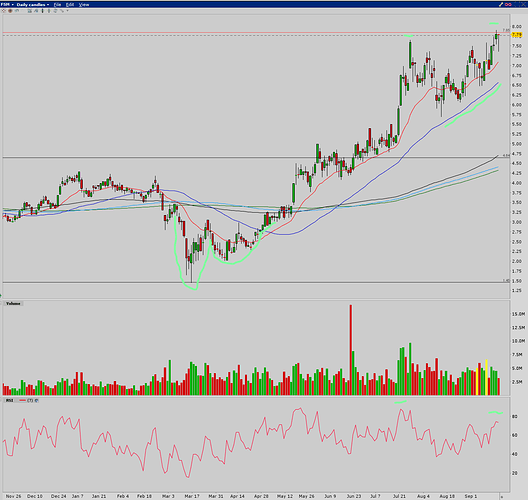 Maybe, but on this 4 hour interval, there's an inverted head & shoulders formation. This is a typically bottom formation occurring at the top of a move. The breakout is already in play and the neckline is already so far fairly well holding support. If this IHS plays out you're looking at a 9.45 target. If it doesn't and you're looking for a place to take some profits, the first place I would use is the neckline and/or the 20 EMA on this chart. Aside from that, the light blue 180 MA on this chart has not been touched since the uptrend began around 2.70. The current political/economic climate probably plays a role in the choice to sell, but I'm sticking to the technical aspects here and leaving the other stuff out to keep it clean.