Insiders still buying Inventus…
Bottom soon … or far from it?
Novo Discusses Plans for Egina
VANCOUVER, British Columbia, Oct. 30, 2018 (GLOBE NEWSWIRE) – Novo Resources Corp. ("Novo" or the "Company") (TSX-V: NVO; OTCQX: NSRPF) is pleased to discuss recent findings and exploration plans at its recently acquired Egina gold project, Western Australia.

Like Novo's Karratha gold project, Egina is an important part of the Pilbara conglomerate gold province. Not only does Egina have potential to host significant deposits of gold-bearing conglomerates, weathering and erosion appear to have liberated considerable gold from these rocks and redeposited it into extensive surficial lag gravel deposits blanketing much of the area. Gold-bearing gravels can easily be explored as described in Novo's aggressive exploration program described below.
https://globenewswire.com/news-release/2018/10/30/1639064/0/en/Novo-Discusses-Plans-for-Egina.html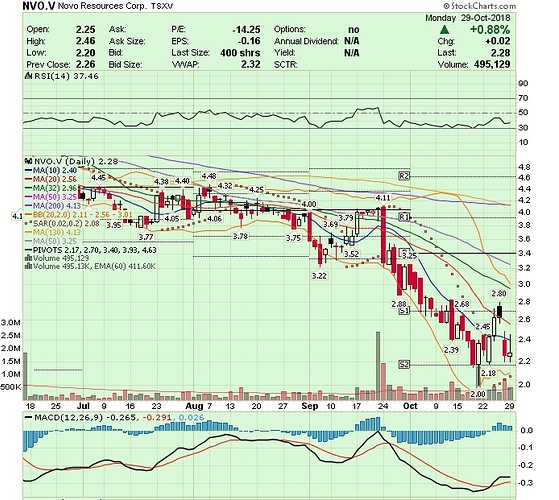 A few Highlights from Artemis AGM Presentation
(Annual General Meeting Presentation
21 pages 4.6MB)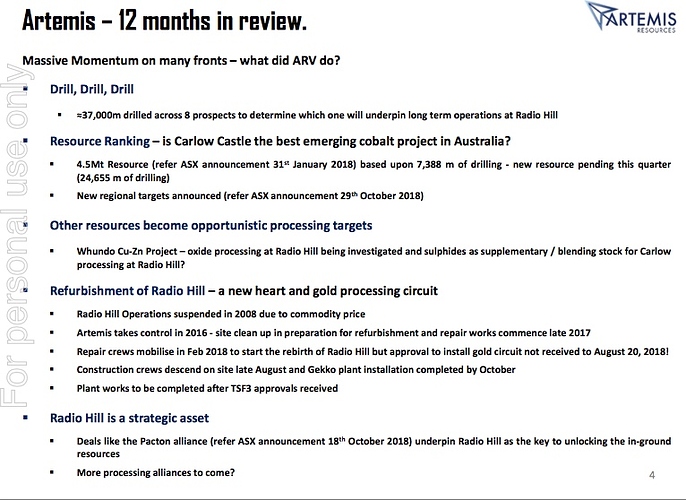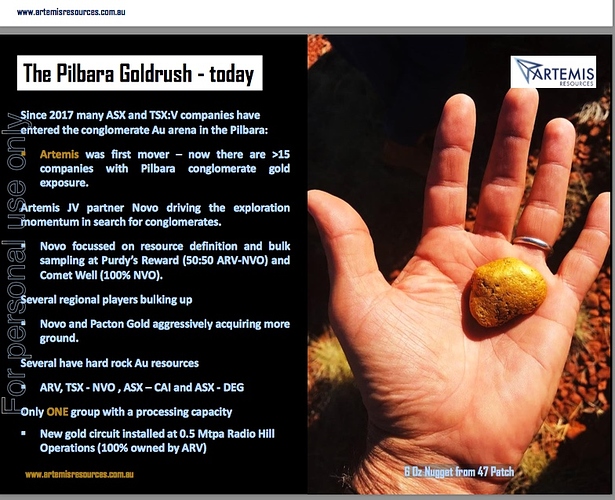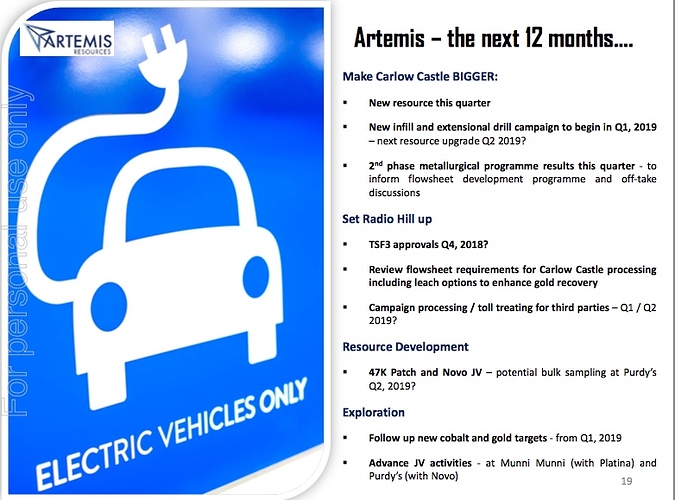 New Artemis announcement, FWIW.
Veni Vidi Vici Ltd just announced it is a substantial shareholder owning about 36M shares in Artemis. Veni Vidi Vici Ltd operates as an investment company out of Dublin. A profile says the Company focuses on investment in and acquisitions of companies operating in the precious metals and base metals sectors. Veni Vidi Vici serves clients worldwide.
It does not state when these shares were acquired, but they had acquired these shares as of February 22 earlier in the year and just filed Oct 23. Why announce now? If I'm looking at this correctly, Veni Vidi Vici Ltd controls over 40% of the voting shares! As a shareholder I would like to see results of Purdy's Reward bulk samples, additional permitting and Radio Hill toll processing for third parties. Next year should be very interesting. It looks as though Artemis is well positioned for the long term investor, IMO.

NOVO at the 18 minute mark, I found it interesting
Pacton Signs Golden Palms Definitive Agreement
VANCOUVER, Nov. 6, 2018 /PRNewswire/ - Pacton Gold Inc. (TSXV: PAC,OTC: PACXF, FSE: 2NKN) (the "Company" or "Pacton") is pleased to announce closing of the Golden Palms property (E 47/3810) acquisition agreement. (Pacton News: Oct 19, 2018).
The Golden Palms project is strategically significant in that it extends Pacton's adjacent Friendly Creek and Hong Kong tenements northward and westward to join Novo Resources Corp.'s Egina project. (Pacton News: Sept 21, 2018). (Figure 1).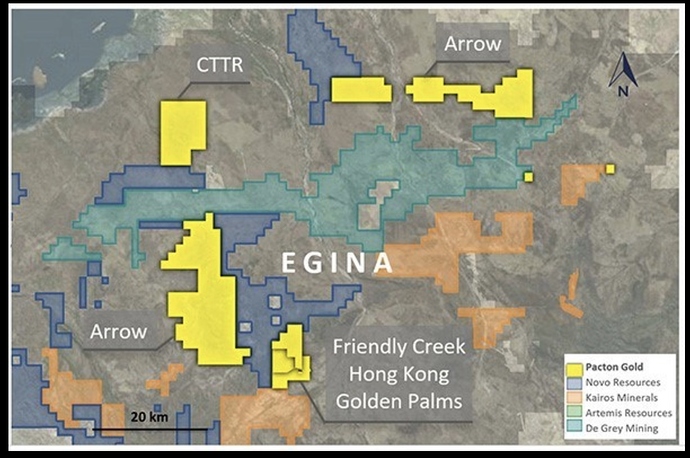 Figure 1. Location map of Pacton tenements in the Egina Area. (CNW Group/Pacton Gold Inc.)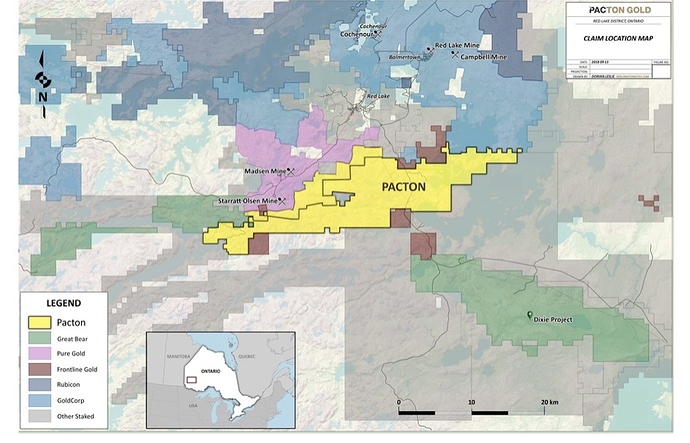 Figure 2. Location map of Pacton claims in Red Lake area (CNW Group/Pacton Gold Inc.)
Under the terms of the Golden Palms agreement, Pacton will purchase 100% of the property by paying a total of $100,000 and issuing 400,000 common shares on completion of the transaction.
The Company also announces that it has entered into an option agreement to purchase 12 mineral claims located in the Red Lake Mining Division, Ontario (the "Red Lake Property"), for aggregate consideration of $110,000 and 250,000 common shares to be paid and issued over two years. The claims are subject to net smelter returns royalties ranging from 0.25% to 2.25%, half of which can be purchased by the Company for $250,000. The 12 newly acquired mineral claims are strategically located between Pure Gold's Madsen and Wedge zone ground and Great Bear Resource's Dixie discovery. In late September 2018, Great Bear Resources reported a drill intersection of 18.23 g/t Au over a drill width of 10.35 meters in what was described as "crack-seal" style veining typical of the Red Lake district (see Great Bear Resources press release dated September 27, 2018). Pacton has now consolidated this strategic land position with the acquisition of these claims within a fertile gold bearing district (Figure 2).
Both the Golden Palms agreement and Red Lake Property agreement are subject to the acceptance of the TSX Venture Exchange. The Company will be seeking such acceptance forthwith.
The technical content of this news release has been reviewed and approved by Peter Caldbick, P.Geo., a director of the Company and a Qualified Person pursuant to National Instrument 43‑101.
About Pacton Gold
Pacton Gold is a well-financed Canadian junior with key strategic partners focused on the exploration and development of conglomerate-hosted gold properties located in the district-scale Pilbara gold rush in Western Australia.
On Behalf of the Board of Pacton Gold Inc.
Alec Pismiris
Interim President & CEO
This news release contains or refers to forward-looking information based on current expectations, including, but not limited to the Company completion of the proposed transaction described herein, the prospect of the Company achieving success in exploring its properties and the impact on the Company of these events, including the effect on its share price. Forward-looking information is subject to significant risks and uncertainties, as actual results may differ materially from forecasted results. Forward-looking information is provided as of the date hereof and we assume no responsibility to update or revise such information to reflect new events or circumstances.
Neither TSX Venture Exchange, the Toronto Stock Exchange nor their Regulation Services Provider (as that term is defined in the policies of the TSX Venture Exchange) accepts responsibility for the adequacy or accuracy of this release.
SOURCE Pacton Gold Inc.
A friend sent me the following news summary yesterday from a true Pilabra story that made me laugh … had to share:
Runaway freight train in Australia owned and operated by BHP…
Engineer hops out to take a leak, train rolls off by itself, 60 mph for 97 kms.!!!
4 engines, 268 cars loaded with iron ore, derailed and completely destroyed.
Stock closes down .33 cents yesterday.
Go figure…I'll bet the movie rights could buy a new train!!
Thanks Fred!
Nov 5/18 Nov 2/18 McEwen, Robert R. Indirect Ownership Common Shares 16 - Acquisition under a prospectus exemption 1,200,000 $0.150
IVS
Wow MUX.T down big time…buying op?
I don't think yet. It broke down below support around 1.85. I think it goes lower short term.
There are 256,644,400 shares in the float (337,286,381shares in OS?). Does a 17% short interest continue downward pressure on the PPS? I would say probably. The chart does not show support. This is not due solely on the merits or negatives of the company. Only a very positive turn of events or positive news will cause a sudden change, IMO. The primary reason for this may be the current strength of the dollar and the fact that MUX is in 13 ETFs. When ETFs are traded down, so is the ETF's proportional holding in MUX sold at a loss. GDXJ, GDX, SIL, XME, RING and SLVP are the main ETFs that exert an influence on MUX, both up or down. Options being played are an additional influence.
1.50, 1.37 & 1.23 are MUX support areas if todays low doesn't hold, imo. Gold is looking like it has decent support for now in the 1200 range, give or take $10.
S&P 500 has an inverted head and shoulders (bullish) about as perfectly formed as I have ever seen on the daily interval. It's either there to draw bulls in for another push higher or to draw bulls in for a fakeout. It may flush lower tomorrow before reversing for another bullish run, if a bullish run is to be in the cards.
Anyone looking for a strong dividend may want to have a look at Morien Resources, which holds a 2-4% royalty on Chris Cline's newest met coal mine in Nova Scotia. Current market cap is $26M. The mine started producing last year but is still two years away from full production. Once they get to that point, Morien expects to be receiving around 8M a year in royalties, half of which they intend to dividend out every year, the rest going to taxes, G&A and pursuing other royalties. At today's market cap, that's around a 14% annual dividend on a mine with a 25 year mine life.
They also have another smaller royalty on an aggregates quarry in Nova Scotia which is set to start production in three years. I've spoken to management at the last couple mining conferences in Vancouver about what other plans they have, and they are pretty confident that they can start picking up some super boring, super unsexy resource royalties that no one else is looking at. Royalties that would pay the upfront cost off in 6-7 years and then continue to produce for many decades after that. I've been asked not to mention what these potential royalties are, so as not give it away to any competitors.
Finally, I think the share price is at a very solid resistance point. I don't know the technical side of things like TR, but the price has been very range bound, especially on the down side due to the company having a normal course issuer bid in place, where they are actively buying stock back and retiring it. They seem to be doing this most actively at the 50-54 cent mark. The stock is currently holding at 50.
Even if the world phases out thermal coal for energy, we will always need met coal, and this company should be a solid royalty on that.
Be careful buying Pacton, read their MD&A & financials.
They've spent a LOT of shares (and money) buying up ground and JVs. THERE ARE A LOT OF SHARES COMING DUE TO BE PAID OUT TO OTHER COMPANIES BECAUSE OF THESE PROPERTY / JV DEALS . IN ADDITION PAYMENTS ARE ALSO COMING DUE.
They have a LARGE amount of claims/properties all over the place, Canada, Australia, etc. (Arrow (Pilbara) Pty. Ltd., Drummond East Pty. Ltd., Tully West Gold Property, Red Lake Project, Carpenter Lake Property, Lincoln Property, Duxbury Property
Unless they can start getting some money from JVing their properties or make a big discovery, their treasury $3.1M cash won't last long